Air Force Shooters Excelled at Hill Country Sharp Shooter Championship -2017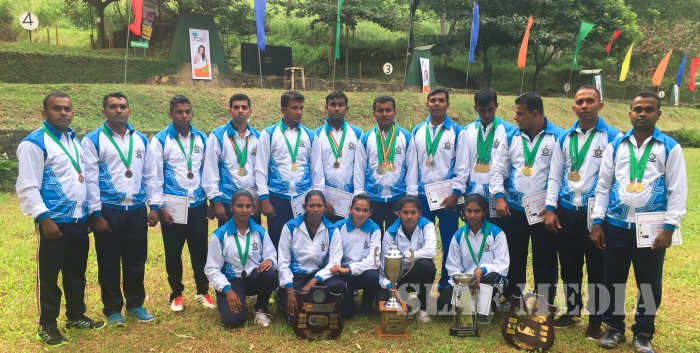 Sharp Shooter Championship 2017 organized by the Hill Country Sports Shooting Club was conducted recently at IPSC firing range Hanthana, Kandy. More than 130 competitors representing National Rifle Association affiliated clubs including Army, Navy, Air Force and Police took part in this championship. During the 4 day championship Sri Lanka Air Force shooters secured 11 Gold, 06 Silver and 05 Bronze medals including 3 individual championships.


The president of National Rifle Association Rear Admiral Niraja Attygalle graced the occasion as the chief guest at the awarding ceremony.

Champion
Open Division Individual (Men)
34076 LAC Wijesooriya NP

Production Division Individual (Men)
36074 LAC Dayawansha PMMGDP
Production Division Individual (Women)
AW/3429 LAC Mekala AT
Overall Match Result (Pistol and Shot Gun)
34486 LAC Fernando HKDD
Meezan Challenge Trophy
34076 LAC Wijesooriya NP
Man Vs Man Champion
34076 LAC Wijesooriya NP
37197 LAC Priyashan HTWJ
Open Division Team (Men)
21859 F/Sgt Premalal HMNS
34076 LAC Wijesooriya NP
34486 LAC Fernando HKDD
37589 LAC Madushanka RGP

Production Division Team (Men)
18512 F/Sgt Keerthirathna TM
36074 LAC Dayawansha PMMGDP
37197 LAC Priyashan HTWJ
017713 LAC Fernando PMMR

Shot Gun Individual Category (Pump Action)
017713 LAC Fernando PMMR
Shot Gun Individual Category (Semi Auto)
34486 LAC Fernando HKDD