Technical Achievements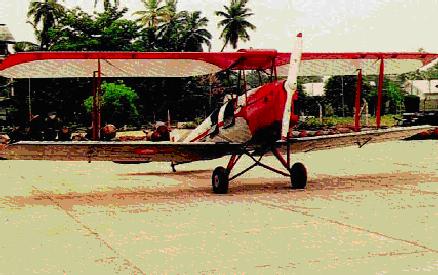 The AP & SU completed a labour of love, with the help of one of Air Lanka's Tristar Captain (Capt Dave Hawkes) the restoration of a De Havilland Tiger Moth 82 aircraft. The Tiger Moth had been a virtual wreck, lying in the hangars of Ratmalana, when it was taken over by the SLAF in 1982 and made airworthy in 1988.
On 2nd April 1989 Wg Cdr A.N.C.W. Jayasekera initiated the formation of the Electronic & Telecommunication Wing at SLAF Base, Ratmalana. On 19th December 1989, SLAF Unit, Ampara was established with three officers and forty-eight airmen. The Aircraft Preservation & Salvage Unit (AP & SU) at Ratmalana introduced several more workshops and overhaul bays in 1988/89, whilst rehabilitating more and more aircraft joining its Museum section.
The Aeronautical Engineering Wing at Katunayake commissioned a Rotor Blade Bay in 1988. The General Engineering Wing began manufacture of 4 models of bombs for the SLAF. They were also responsible for constructing and equipping the SLAF's stalls at the Gam Udawa Exhibition, a project initiated by President Premadasa, in June each year.
Dress Regulations (which still specified the use of Khakhi) were fully revised and Parliamentary approval obtained and gazetted for the changes. Despite the demands of war, Commander Walter Fernando saw to it that a whole host of projects were completed during his period of command.
Air Marshal Walter Fernando was promoted to Air Chief Marshal on 15th February 1990 - he retired on 16th February 1990. He was appointed Secretary to the Minister of Defence on 17th February 1990 and subsequently appointed Secretary, Defence on 7th September 1993. ACM Walter Fernando is the only Commander of the Air Force to date, to have held this position.
Visit the Official SLAF Museum website for more details...