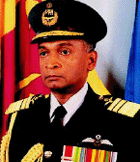 Air Marshal Oliver Ranasinghe, the ninth Commander of the SLAF, relinquished Command in March 1998. Air Marshal Jayalath Weerakkody took over duties as the tenth Commander of the Sri Lanka Air Force on 6th March 1998 .
He was instrumental in re-organizing the SLAF's Flying Formations into effective squadrons, to meet the needs of a growing role and an expanding fleet. Even today, aircraft are inducted to meet a need, and new squadrons form around the aircraft and the designated roles they are called upon to play.
This has given rise to the formation of the different squadrons, their divisions and amalgamations and re-definition of roles, over the years .
Boost for Training
Air Marshal Weerakkody came to the seat of Command of SLAF with a firm avowal to enhance significantly, the training opportunities to the men and women of the Air Force. He lost no time in seeing his aspirations reach fruition. On 4th March 1999, he declared open The Junior Command and Staff College at China Bay, a College designed to prepare officers in the rank of Squadron Leader and Flight Lieutenant for managerial appointments.
Its other goals were to educate officers towards a better work culture, prepare them to meet social commitments as befit their rank and appointment, provide modern management skills and provide an orientation to officers to help them handle Information Systems effectively and efficiently.
The new College features an auditorium, syndicate rooms, a reference library and a computer laboratory. The Best Student receives the Air Marshal J. Weerakkody Trophy, whilst the best Commandant's Paper is awarded the Wg Cdr E.G.J.P. De Silva Trophy. The top three overall performers are sent overseas for training.