The Air Force mustered 1 AVRO, 2 Y-12s and 1 Heron, all configured as improvised bombers a far cry from the purposes for which they were designed. Another 2 AVROs, 2 Y12s and 2 Doves were used as transports, ferrying personnel and goods to and from Colombo, Anuradhapura and Trincomalee as and when required. A Y-12 was reserved for CASEVAC duties.
Three of the venerable Cessna 337 Skymasters were devoted to reconnaissance missions over land and sea. The Cessna s along with the Jet Ranger helicopters performed air observation point missions too. 6 Siai Marchetti SF 260s were entrusted with a Fighter/Ground Attack role and performed Close Air Support and Battlefield interdiction missions.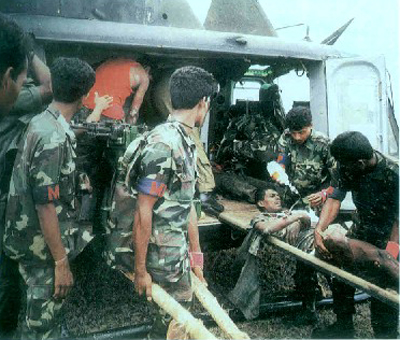 Two helicopters were configured as gunships and provided Close Air Support in their slow flying mode, distinct from that of the fixed wings. 8 helicopters were configured as troop carriers, two more were configured as both troop carriers and CASEVAC aircraft, whilst another three, configured as troop carriers, were held in reserve.
Palali airfield became a temporary home base for the Vadamarachi fleet . Operation Liberation had all the hallmarks of one of the largest and most decisive campaigns launched by Government forces up to that time.