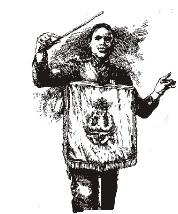 Another formation that quietly took shape in the early days of AVM Mendis command period that remained largely unsung - was the Air Force Band. The formation of the Air Forces Military Band has been described as a thoughtful concept, introduced by Flight Lieutenant M.J. Terry De S. Gunawardena, in the era of Air Commodore P.H. Mendis - Commander of the RCyAF. (Terry Gunawardena himself, was later to command the SLAF).
Twelve pioneer airmen were posted to the Sri Lanka Navy, Welisara to follow basic training and guidance under the late Commander Premalal Danwatte - at the time a Lieutenant and Director of Music at the SLN. Initial training was in Bugling and Drumming. In 1973 another twelve volunteer airmen were recruited to the Band.
The SLAF Band
Thus the first Air Force Military Band consisting of 24 musicians and a JNCO in charge - Cpl. K.A.D.A. Morris arrived back at the SLAF Regiment, Katunayake. The first Bandmaster was Chief Petty Officer, M.P.H Bartholomeusz - commissioned on 15th June 1976 in the rank of Pilot Officer.
On the 22nd of May 1972, Ceylon became the Democratic Socialist Republic of Sri Lanka - from that point onwards the Royal Ceylon Air Force (RCyAF) became the Sri Lanka Air Force (SLAF) - all Bases, Units, Detachments and Wings shed the RCyAF tag and adopted the new one - SLAF.