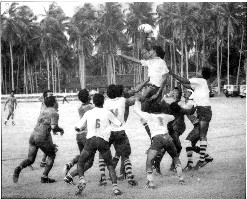 AVM Harry Goonetileke was without doubt, one of the more obvious sporting Commanders the Air Force has seen over the years. Under his guidance, sports flourished and reached great heights. He was popularly called the father of Air Force Rugby and not without good reason! The Air Force team was placed in the B Division of the premier Rugby tournament in the country. He raised standards, groomed players and brought them into the A Division.
The Air Force Rugby team had the likes of Jeff Rutnam, Mohan Balasuriya, Tikiri Marambe, Nalin Silva, Rohan Gunaratne and Jeyer Rodriguesz in their ranks. All extremely fine players, all represented Sri Lanka at rugby. Flt Lt Mohan Balasuriya brought honour to Air Force Rugby when he was chosen to captain the Sri Lanka Rugby team. Interestingly, Rohan Gunaratne's is another remarkable story. He had never played rugby before joining the Air Force yet he learnt and mastered the game, to perform with great distinction and represent his country.
Commander Goonetileke captained the Air Force cricket team successfully in the Daily News Trophy tournament, where, in those days, matches were of a days duration. He successfully guided them through the transition from the Daily News Trophy tournament, to the Donovan Andree Trophy championship where the matches were played over 2 days. He also introduced a partial sponsorship scheme for Air Force sportsmen selected for National honours overseas, using Air Force non-public funds.
Infrastructural Development
Another innovation during the late 70s was the introduction by Commander Goonetileke of Formation Flags with appropriate motifs for use at ceremonial functions. A Families Welfare Association (FWA) was formed to look after the interests of Air Force families. AVM Goonetileke's wife was the first President of the FWA. The FWA really became the forerunner of the Seva Vanitha movement, which was later established at National level. Branches of the FWA were set up in each formation, with the wives of Commanding Officers presiding over them.
Commander Harry Goonetileke gave great support to the setting up of the Ex-Servicemen's Association on 24th August 1980. The first dance of this Association was held at No. 1 Hangar at Katunayake on Christmas Eve 1980. In the year 2000 on the 49th birthday of the SLAF he was proudly elected its President a moment to cherish.
In 1976 a major international air disaster occurred in Sri Lanka. A passenger jetliner operated by the Charter Company Martinair crashed into the Seven Virgins mountain range. The Jungle Rescue Team of SLAF were despatched from Diyatalawa to carry out rescue operations.