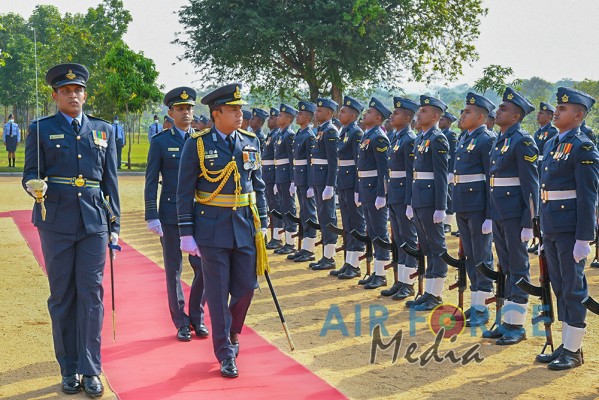 COMMANDER'S INSPECTION OF SLAF STATION SIGIRIYA
5:07pm on Friday 9th April 2021
The Commander of the Air Force, Air Marshal Sudarshana Pathirana conducted the Commander's Inspection of SLAF Station Sigiriya today (09 April 2021) for the year 2021. The Commander was received by the Commanding Officer, Group Captain SD Kalubowila and was accorded a Ceremonial Guard of Honour.
During the course of the inspection the Commander visited all areas of the Station including Station Headquarters, Main Operations Room, Regt Sqn HQ, Works Section, Supply Section, SWO's Office, MI Room Airmen's /Airwomen's Mess and Catering Supply Deport, Sports Section, WOs' and SNCOs' Mess, Officers Transit Block II, Hospitality Management School, Main Guard Room and Tailoring Section.
In conclusion the Commander addressed all ranks of the Station and thanked them for their dedicated services to the nation and the SLAF, during challenging and demanding times. Further, the Commander also encouraged all personnel of the Station to strive for higher standards and to give paramount importance to discipline as service personnel.