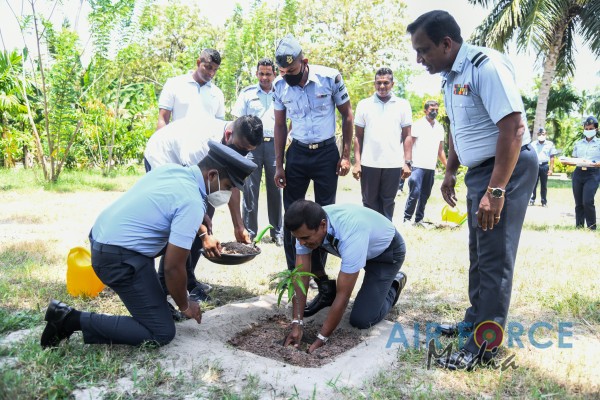 SLAF MARKS WORLD EARTH DAY
10:24pm on Thursday 22nd April 2021
The Sri Lanka Air Force marked the World Earth Day 2021 with a symbolic Tree Planting Ceremony which was held at SLAF Base Katunayake. The event was organized by the Command Agricultural Unit of the SLAF under the guidance of the Command Agro Officer, Air Commodore Suharshi Fernando. Southern Air Commander and Base Commander of SLAF Base Katunayake, Air Vice Marshal Udeni Rajapaksa participated for this program.

In the present context the Earth is clearly urging us to take action. Oceans are filling with plastic and turning more acidic. Extreme heat, wildfires and floods have affected millions of people. At present the world face COVID-19, a worldwide health pandemic.

During the recent past the SLAF has actively engaged in many activities related to the positive contribution towards environmental protection. In line with that the SLAF has conducted 4 aerial seed bombing missions. These missions are aimed at re-forestation of locations which can not be reached by land. In addition, the SLAF also conducted tree planting programs island-wide at all establishments.

The SLAF has also conducted surveillance missions aimed at monitoring the progress of re-forested areas, monitoring and controlling cultivation of illegal plants. Air Force surveillance missions are also conducted in order to locate and identify illegal cutting down of trees and illegal sand mining operations. Further, the SLAF has effectively utilized its air assets in combating wild fires on countless occasions thereby protecting our dwindling forest cover. The SLAF annually also conducts cleaning programs along the path leading up to the Adams Peak in an effort to help maintain the delicate ecological system which surround the sacred mountain.