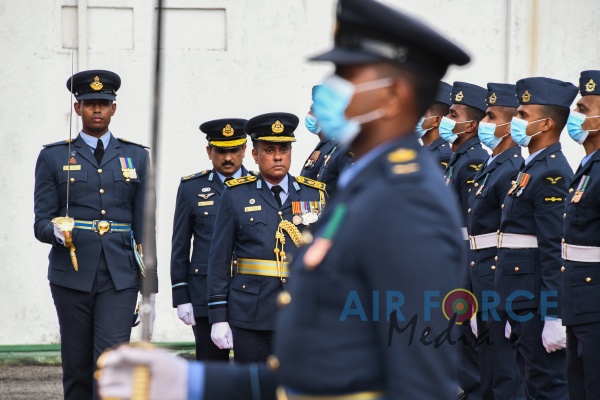 AIR VICE MARSHAL CAMILLUS LABROOY BIDS ADIEU TO THE SRI LANKA AIR FORCE
5:24pm on Friday 16th July 2021
Air Vice Marshal Camillus Labrooy WWV, RSP, USP, MMS (Ind), ndc (Ban), hdmc bid adieu to the Sri Lanka Air Force today (16 July 2021) after completing more than 35 years of dedicated service to the nation. At the time of his retirement, he held the appointment of Director Ground Operations of the Sri Lanka Air Force.

Air Vice Marshal Labrooy made an official farewell call on the Commander of the Air Force, Air Marshal Sudarshana Pathirana at his office. The Commander commended Air Vice Marshal Labrooy for the dedicated and distinguished long years of service rendered to the Nation and to the Sri Lanka Air Force in particular. The Commander and the Air Vice Marshal exchanged mementos to mark the occasion. After which, he was accorded a Ceremonial Guard of Honour by the SLAF Colour Wing before he departed Air Force Headquarters for the very last time.

Air Vice Marshal Labrooy joined the Sri Lanka Air Force in 1986 with the 16th Intake of Officer Cadets. During his distinguished military career of over 35 years, Air Vice Marshal Labrooy has been awarded with the Weera Wickrama Vibhushanaya and Rana Sura Padakkama for acts of bravery in the face of the enemy and also the Uttama Seva Padakkama for unblemished conduct. He was also involved heavily in training establishments of the SLAF and has been responsible for producing many Commissioned Officers of high caliber.