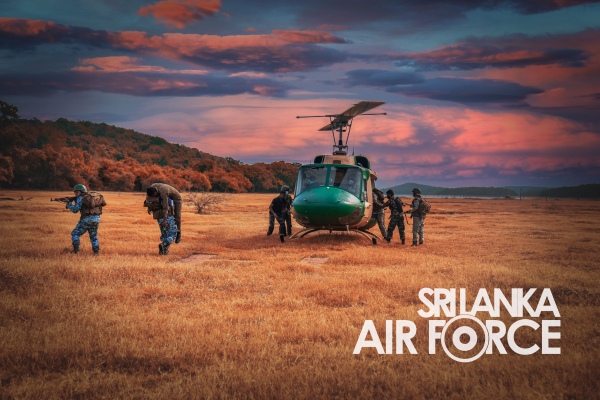 JUNGLE WARFARE AND HELI BORNE OPERATIONS COURSE FOR FOREIGN TRAINEES CONCLUDES AT MORAWEWA
5:55pm on Friday 17th September 2021
The Regiment Special Forces Training School at Sri Lanka Air Force Station Morawewa conducted the No 02 Jungle Warfare and Heli Borne Operations Course for Six (06) foreign trainees from Pakistan, Bangladesh and Maldives from 31 August 2021 to 16 September 2021.
Jungle Warfare and Heli Borne Operation Course for foreigners has been designed to achieve professionalism with respect to Combat Search and Rescue, Special Operations and methods techniques and procedures when working with aircraft. Further, to enhance mutual knowledge on these aspects of elite forces of friendly foreign nations. Covered subjects were Aircraft Familiarization, Heli Marshalling, Insertion, Extraction, Rappelling, Abseiling, Stabilized Body (STABO), Special Petrol Insertion and Extraction (SPIE), Drop Zone and Pickup Zone Selection and Aircraft Emergency Procedures. The training was conducted according to the health guidelines for the prevention of COVID 19.
The Closing Ceremony and Certificate Awarding of said course conducted yesterday (16 September 2021) under the patronage of the Commanding Officer, Sri Lanka Air Force Station Morawewa, Group Captain DSMLK Sugathadasa. The Commanding Officer of the Regiment Special Force, Wing Commander HAWP Hettiarachchi also participated for the event.
Foreign Participants were as follows,
Squadron Leader Usman Gul – Pakistan Air Force (GD Pilot)
Squadron Leader Ehtisham Ul Haq– Pakistan Air Force (GD Pilot)
Flying Officer Ehathashamul Alam– Bangladesh Air Force (GD Pilot)
Sergeant M Azizul Haque– Bangladesh Air Force (Ground Combatant)
Sergeant Mohamed Kaleem– Maldives Marines Corps
Sergeant Ali Fawaaz– Maldives Special Forces