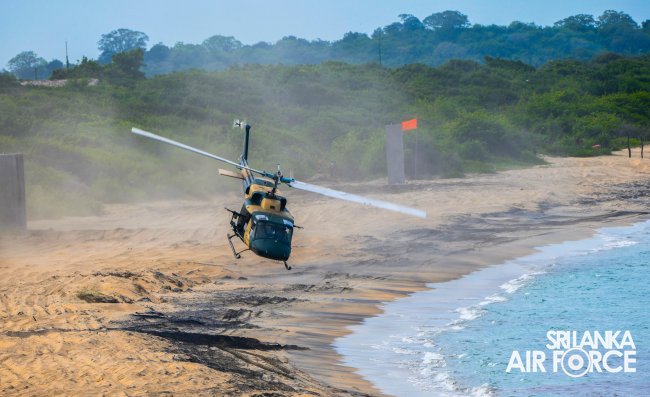 JOINT EXERCISE, "CORMORANT STRIKE XI – 2021" CONCLUDES AT KUCHCHAVELI BEACH
3:12pm on Thursday 30th September 2021
The final phase of the Joint Exercise, Cormorant Strike XI - 2021, named "Critical Engagement," was held yesterday (29 September 2021) at the Kuchchaveli Beach Head where the Acting Chief of Defence Staff and Commander of the Army, General Shavendra Silva attended as the Chief Guest. High Commissioner for Bangladesh in Sri Lanka, His Excellency Tareq Md Ariful Islam, the High Commissioner for Maldives in Sri Lanka, His Excellency Omar Abdul Razzak, Defence Attaches and a host of tri service Senior Officers also participated for the climaxing event of this year's Exercise, Cormorant Strike. The Director Air Operations, Air Vice Marshal Kapila Wanigasooriya and the Director Ground Operations, Air Vice Marshal Janaka Amerasinghe participated for the final exercise held yesterday.

This was the climax of the entire operation where the Commando Regiment, Special Forces, Regiment Special Forces (RSF) of Sri Lanka Air Force and Special Boat Squadron (SBS) of SL Navy executed their final assault capturing the simulated hostile Bases located in Kuchchaveli by deploying small groups. There were participants from foreign militaries as well which added value to the exercise. Bell 212 helicopters from the No 7 Squadron, Mi-17 helicopters from the No 6 Squadron, Beach King 200 aircraft from the No 3 Maritime Squadron and F-7 Fighters from the No 5 Fighter Squadron actively participated for this year edition. This year's edition also saw for the first time in history, the Sri Lanka Air Force Regiment Special Forces (RSF) conducting a Combat Search and Rescue (CSAR) training exercise at Narakamulla in the general area of Thoppigala.

Sri Lanka Air Force executed the air operations which included Rig and Drop, CASEVAC, Air Assaults and extraction missions as well. Group Captain Prasanna Kuruwita, the Base Commander of SLAF Base Hingurakgoda officiated as the Senior Air Force Coordinator for the Exercise Cormorant Strike 2021.