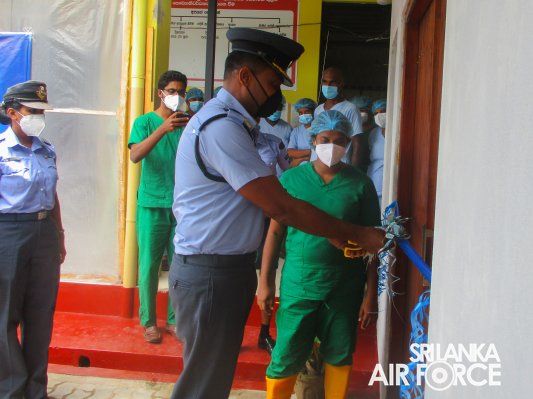 12TH PHASE OF "GUWAN MITHUDAM" PROJECT COMPLETED AT KOGGALA
3:28pm on Friday 1st October 2021
The 12th phase of the "Guwan Mithudam" project was successfully conducted by SLAF Station Koggala yesterday (30 September 2021) under the guidance of Chairperson SLAF Seva Vanitha Unit Mrs. Charmini Pathirana.

A newly constructed Oxygen Treatment Unit for the COVID-19 Ward at Meepe Regional Hospital was handed over to the Medical Staff by the Commanding Officer of SLAF Station Koggala, Group Captain Thilina Rajapaksha. The overall project was funded by the SLAF Seva Vanitha Unit in collaboration with SLAF Station Koggala.

Meepe Regional Hospital is being functioned as a COVID Treatment Center and was identified that Intensive Care Unit (ICU) adaptations have substantial attention during the ongoing COVID-19 pandemic. The intention of the project is to deal with the recent surge in cases coming into hospital by expanding facilities of Intensive Care Unit (ICU) for patients who are infected with the COVID-19 virus. During the occasion, a set of medical equipment (Personal Protection Equipment kits) was also handed over to the medical staff at the Meepe Regional Hospital.

The CO SLAF Station Koggala, Medical Officer In-charge Dr. RM Kotambage and Medical Staff of Meepe Regional Hospital, limited number of Officers and Other Ranks from SLAF Station Koggala attended for the handing over ceremony while giving due consideration to COVID-19 preventive measures.