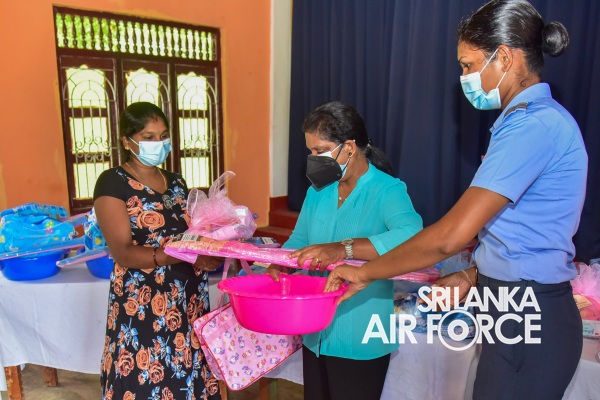 SLAF SEVA VANITHA UNIT DISTRIBUTES MATERNITY ESSENTIALS TO PREGNANT MOTHERS
8:58am on Tuesday 5th October 2021
The SLAF Seva Vanitha Unit, under the guidance of the Chairperson, Mrs. Charmini Pathirana, conducted a charity programme to distribute hampers consisted of maternity essentials for 37 pregnant mothers in the area of Kappalthurei yesterday (04 October 2021).
This programme was funded by the members of the Seva Vanitha at SLAF Academy China Bay, under the directions of the Mrs. Krishanthi Perera the President of the Seva Vanitha Unit at China Bay. The distribution of hampers was held in the T/ Saraswathy Vidyalaya with the assistance of Lady Officers and spouses of Officers at the SLAF Academy.
The Medical Officer of Health (MOH) in Kappalthurei, Dr. Sayan Participated for the occasion and he conveyed his gratitude on behalf of the medical staff. The event was held with limited number of participants whilst adhering to COVID-19 protocols.