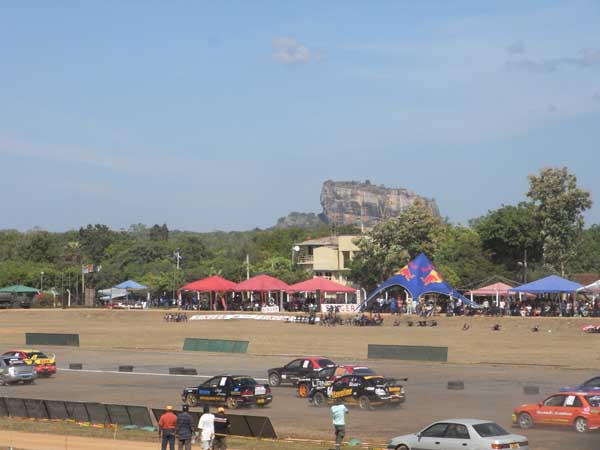 Flag Off…… at a New Racing Track
8:44pm on Sunday 27th September 2009
The first ever "Sigiriya Rally Cross" the newest addition to the countries motor racing arena, was flagged off this morning at a newly built track in Sigiriya. The specialty in this form of track was that it comprised the features of a 'tar mach' as well as the 'gravel road' with various obstacles of its kind. A participation of two Indian riders also added importance to the event.
This year's flag of the first ever "Sigiriya Rally Cross," was waved today (27 September 2009), at the Sigiriya Air Force station. Speakingairforce.lk the chairman of the organizing committee Air Commodore Rohitha Ranasinghe stated that, it is expected to introduce this event as an annual feature in the Racing calendar. "Sigiriya Rally Cross 2009", was organized by the Sri Lanka Air Force in association with the Sri Lanka Association of Racing Drivers and Riders (SLARDAR) and Sri Lanka Telecom Mobitel coming forward as its main sponsor. The collection at the gates will be channeled towards the upliftment of families of the injured and fallen SLAF personnel whom can't be supported through public funds.
The Commander of the Air Force Air Chief Marshal Roshan Goonatileke graced the event as the Chief Guest. Following much competition amongst the "Racers" Ishan Dassanayake and Pasindu Peiris won the two special trophies, for the best driver and best rider respectively.
The results of the events held at the "Sigiriya Rally Cross" -2009" are as follows....
Event 01 group SL-N Nissan March 1000c JANASHAKTHI INSURANCE TROPHY
10 Missaka Naween Nissan March 997 01
01 Harsha Panduwawala Nissan March 998 02
21 Mishael Wijesuriya Nissan March 1000 03
Event 02 group J - Racing Motorcycles upto 85cc - under 13 years JANASHAKTHI INSURANCE TROPHY
22 Evon Biyagee Gurusinghe Honda CR 85 01
85 Imantha Siriwardena Yamaha YZ 85 02
18 Dillen Buultjens Kawasaki XX 85 03
Event 03 group M - MOD Street Trail Motorcycles upto 125cc (2T- 4T) COCA-COLA TROPHY
66 Shanuka J sadaruwan Honda CRM 80 01
78 Lahiru Jeewantha Kumraasinghe Kawasaki KDX 125 02
55 Silva Marappan Suzuki TSR 125 03
Event 04 group T & J Diesel Turbo upto 5500cc
SLAF TROPHY
27 Lanil Galaboda mitshubihi Pajero 2800 01
60 MAnjula Wijesinghe Pajero 2800 02
18 Lasantha Vitharana Toyota Hiux 2499 03
Event 05 group SL -N Cars - Over 12 Kg/Hp SINGER - TROPHY
54 Upulwan Serasinghe Ford Laser 12.5 01
100 U C Perera Ford Laser 12.5 02
15 Lalin Kinnde Ford Laser 12.5 03
Event 06 group J Motorcycles PW or QR 55cc u10 Years B.O.C TROPHY
39 H E D Binalk Kithalagama Yamaha PW 50 01
51 M NiklesManchanake Loncin PY 50 02
100 LG Thimila Leeshan Devinda Yamaha PW 50 03
Event 07 group SL -N Mini 7 upto 1000cc
B.O.C TROPHY
79 Susantha gunawardana Austin Mini 1000 01
77 Lasantha Gunasekera Austin Mini 1000 02
53 Andrew Lal Perera Austin Mini 1000 03
Event 08 group SL -H Cars upto 1600cc (Race1) MOBITEL TROPHY
63 Upulwan Serasinghe Honda T-J Specel 1600 01
74 Ashan Silva Honda Civic 1600 02
25 Nishan Wasalathanthri Honda v-tec 1600 03
Event 09 group SL -L Cars upto 1050cc SLARDAR TROPHY
08 A D S Ajiith Keerthi Austin Mini 1050 01
59 Samantha gunawardana Austin Mini 1050 02
42 Anil jayakoddy Diahatsu G100S 1050 03
Event 10 group SL -N Cars - 10 to 12 Kg/Hp RED BULL - TROPHY
41 Dinesh Senanayake Mazda Aea 10.57 01
46 Pasidu Peiris Honda EG 3 11.04 02
64 Upulwan Serasinghe Ford Laser 12.5 03
Event 11 group MX Racing Motor cycles upto 85 CC (Under 16 Years) EXIDE TROPHY
12 Shehan C Adikari Honda CR 85 01
07 Shanuka J Sandaruwan Honda CR 85 02
28 Imal S U Manchanayake Suzuki RM 85 03
Event 12 group - STD/MOD Sreet Trail Motorcycles upto 250cc (2T&4T) EXIDE TROPHY
27 R M Safras Yamaha WR 250 01
31 Shiva Marappan KTM EXC 250 02
03 T P Susil Chandana Yamaha WR250F 250 03
Event 13 group SL-N Ford Laser / Mazda upto 1500cc MOBITEL - TROPHY
45 Upulwa Serasinghe Ford Laser 1500 01
43 Kaushalya Samarasinghe Ford Laser 1500 02
94 Shanaka Kasthuriarachchi Ford Laser 1500 03
Event 14 group Super Motard Racing Motorcycles OPEN MOBITEL - TROPHY
21 Udesh Wedisinghe Yamaha YZ 250 01
52 Ramal Pathirathne Yamaha WR 426 02
44 Indika Gurusinghe Honda CRS 450 03
Event 15 group SL-GT Cars up to 3500CC (Race) HTL S L - TROPHY
49 Pasindu Peiris Mitsubishi EVO 9 2000 01
68 Aravinda Premadasa Mitsubishi EVO 7 2000 02
30 Janaka Dias Subaru Imprezza 2000 03
Event 16 group MX Racing Motor cycles upto 85 CC (Under 16 Years)
SINGER TROPHY
12 Shehan C Adikari Honda CR 85 01
07 Shanuka J Sandaruwan Honda CR 85 02
28 Imal S U Manchanayake Suzuki RM 85 03
Event 17 group SL-H Cars up to 1600cc MOBITEL - TROPHY
74 Ashan Silva Honda Civic 1600 01
06 Ishraq Wahab Honda Civic 1600 02
63 Upulwan Serasinghe Honda T-J Special 1600 01
Event 18 group MX Racing Motor cycles up to 125 CC(2T-4T) FMSSL - TROPHY
45 Ishan Dasanayake Yamaha TZ 125 01
12 Shehan C Adikari Honda CR 85 02
34 Rumlsha Buultjens Honda CR 125 03
Event 19 group SL- N Cars up to 8-10Kg/Hp EXIDE TROPHY
62 Prasanna Ranasinghe Vauxhall Cavalier 8.1 01
34 Dinesh Senanayake Suzuki Swift 8.09 02
46 Pasidu Peiris Honda EG 3 11.04 03
Event 20 group MX Racing Motorcycles upto 250 CC SINGER TROPHY
45 Ishan Dasanayake Yamaha TZ 125 01
76 K P Aravinda (INDIA) TVS 250 02
90 Rumisha Buultjens Honda CRF 250 03
Event 21 group SL-A Cars upto 1400cc B.O.C TROPHY
87 Damitha Abeyratna Honda Civic 1342 01
52 W A G Rangana Ford Laser 1370 02
08 A D S Ajith Keerthi Austin Mni 1050 03
Event 22 group MX Racing Motorcycles up to 250 CC MOBITEL SMART TROPHY
45 Ishan Dasanayake Yamaha TZ 125 01
76 K P Aravinda (INDIA) TVS 250 02
63 h k pRADEEp (INDIA) TVS 250 03
Event 23 group T & J Open Event EXIDE TROPHY
29 Dinesh Senanayake Toyota RAV4 2000 01
80 Ihraq Wahab Mitsubishi EVO Jeep 3500 02
27 Lanil Galaboda Mitsubishi ajero 2800 03
Event NO24 group SL-GT Cars upto 3500CC (Race2) HTL SL - TROPHY
49 Pasindu Peiris Mitsubishi EVO 9 2000 01
30 Janaka Dias Subaru Imprezza 2000 02
89 Kapila Jayasundara Mitsubishi EVO 7 2000 03