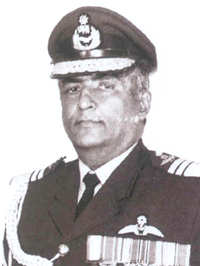 On the 01st of August 1990 Makalandage Johnny Terrence De Silva Gunawardena took over as the eighth commander of the Sri Lanka Air Force, having being promoted to the rank of Air Marshal.
Groomed in the early days of his life at Wesley College Colombo, Terrence Gunawardena joined the Air Force on 31st December 1959 and was commissioned in 1961. Refrred to, within close circles, as 'Terry', he served as a squadron pilot in many squadrons. He was also a pioneer in the early jet era flying Jet Provost and MiG 17 jets.
His rise through the ranks was made colourful by the training that he received at the RAF Staff College, Bracknell UK and the National Defence College, New Delhi, India. Prior to being appointed as the Commander he held the appointments of Commanding Officer No 2 Squadron and Commandant Air Force Academy China Bay among many other such key appointments. He took over duties as Chief of Staff in March 1986 from where he rose to the pinnacle of his career.
Air Chief Marshal Terrence Gunawardena was instrumental in reviving the fighter jet capability of the Sri Lanka Air Force – an aspect that had long been forgotten and neglected. Under his concept the SLAF acquired the Chinese F 7 which spawned a new generation of men and machines. The Argentinian FMA IA 58 Pucara and the Mil Mi 17 were two other notable acquisitions to the SLAF during his tenure. Both the F 7 and Mi 17 proved to be invaluable during the campaign against terrorism. He also introduced the zonal concept which was used in administration of the Air Force.
Air Chief Marshal Gunawardena was awarded the Vishista Seva Vibushanaya in recognition of a distinguished career with the SLAF. He handed over command on 16th February 1994. He was promoted to the rank of Air Chief Marshal upon retirement.