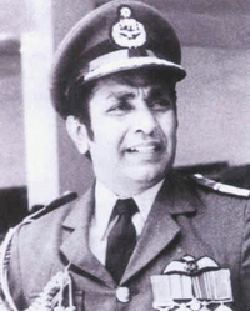 Wellarachchige Don Harold Sumathipala Wijesinghe Goonetileke, more fondly known as 'Harry' Goonetileke became the fifth commander of the Air Force when he took over duties on 1st November 1976
A product of Royal College Colombo, young Goonetileke joined the Air Force as a Flight Cadet on 21st September 1951 in the first batch of locally trained cadets. Going through flight training in the Chipmunk and Balliol aircraft, Harold Goonetileke was awarded his wings in 1954.
He was a member of the team that made the historic ferry flight of two De Havilland Herons from the UK to Ceylon. He was also showed an avid interest in sports, with Rugby and Cricket being his favourites. He continued to serve as an operational pilot at No 2 Squadron, rising to become its Commanding Officer in 1963. His journey through the ranks was made colourful by the training imparted from the Defence Services Staff College at Wellington, India and the National Defence College in India
He was the Station Commander at RCyAF Stations China Bay from 1966 to 1968 and also at Katunayake. With the birth of the Board of Management, he was appointed as the Director Operations. Subsequently he rose to become the Chief of Staff prior to being appointed as the Commander.
ACM Goonetileke's period of command saw the beginning of some important reclamation work, in terms of restoring disused RAF airfields. He also began the archival process that led in later years to the formation of the SLAF Museum. He relinquished command on 30 April 1980. In recognition of his service to the nation and the Air Force he was promoted to the rank of Air Chief Marshal on 01 October 2007. ACM Harold Goonetilleke passed away on 11 April 2008.