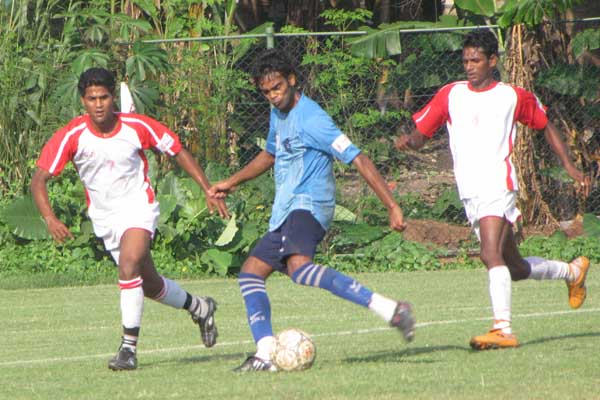 Airmen Kick Off the Second Round with a Victory
7:26pm on Sunday 11th October 2009
The SLAF Soccerites after five wins out of six matches in the first round of the Dialog Champion league, kicked off the second round first match with a 2-1 victory over Jupiters SC this evening (11 October 2009).
Compared to the previous match played against the same opponents in the first round, Jupiters SC did well to restrict the Airmen to only two goals after a tight game. However, the Airmen started the game with luck being on their side, when Air Craft Man S Sanjeew scored the first goal in the very first minute of the game. There after HBR Chanaka scored a goal for the Jupiters SC in the 44th minute of the game and leveled the scores at the end of the first half.
Both teams resuming play in the second half were on look for the winning edge against the other until the 71th minute when Air Craft Man S Sanjeew scored the second goal for the Airmen.