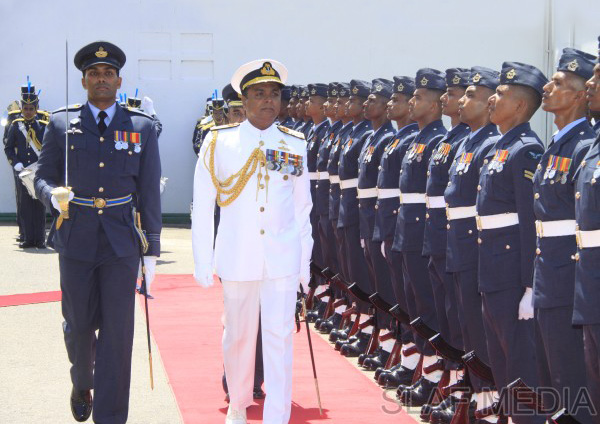 Outgoing Navy Commander, Vice Admiral Somathilake Dissanayake Visits SLAF HQ
6:44pm on Friday 21st September 2012
The outgoing Commander of the Sri Lanka Navy, Vice Admiral Somathilake Dissanayake, paid a farewell call on the Commander of the Sri Lanka Air Force, Air Marshal Harsha Abeywickrama, at the Air Force Headquarters, on 21 September 2012.
Upon arrival at the Air Force Headquarters premises, he was received by the Commanding Officer of SLAF Station Colombo, Air Commodore Rohintha Fernando, and was accorded a Guard of Honour. Thereafter, he was welcomed by the Commander of the Air Force at the entrance steps of the Headquarters and was conducted into the Commander's office at the Air Secretariat.
During the cordial discussion that followed between the two Commanders, Vice Admiral Dissanayake expressed his satisfaction and appreciation to the Commander of the Air Force for the mutually beneficial cooperation the two sister services shared in all spheres of joint action during his tenure. He also thanked Air Marshal Abeywickrama for the personal friendship they shared which in turn helped improve the inter-service cooperation to a great extent.
The Commander presented the retiring Navy Chief a replica of the venerated De Havilland 82 Tiger Moth, one of the first aircraft to fly in the Sri Lankan skies, to mark the occasion. The Navy Chief reciprocated with a replica of a Naval Officer's Sword. Thereafter, Vice Admiral Dissanayake entered his parting words and signed the Visitors Book.
The Chief of Staff, Air Vice Marshal Kolitha Gunatilleke, and rest of the members of the Air Force Board of Management joined the two Commanders and they extended their best wishes to Vice Admiral Dissanayake's new life in retirement.
Sri Lanka Air Force bids farewell to an Admiral, a War hero, an Artiste and above all, an Officer and a Gentleman.