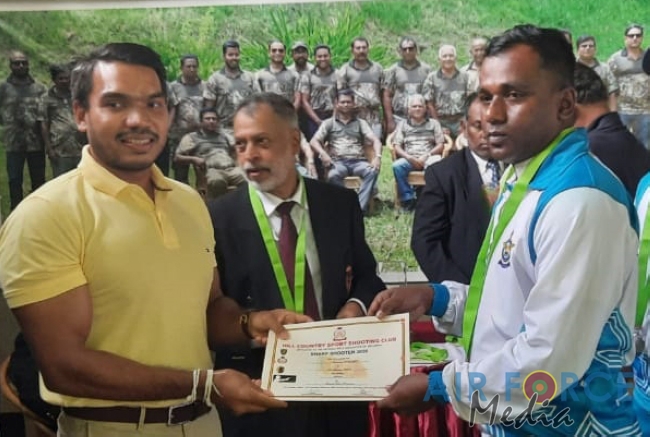 SLAF Excels at IPSC Sharp Shooter Championship - 2020
3:43pm on Tuesday 6th October 2020
SLAF Shooting team became Champions at the IPSC Sharp Shooter Championship 2020 organized by the Hill Country Sports Shooting Club, Kandy. This event was held from 02 October to 03 October 2020 at the Hill Country Sports Shooting Range, Hanthana, Kandy.

IPSC Sharp Shooter Championships -2020 is an internationally recognized Level III competition and trial to select National level shooters to represent Sri Lanka in International encounters for the year 2021. More than 183 top Shooters from 16 Shooting Clubs in the country including Army, Navy and Police participated at this major event.

The SLAF Competition Shooting Team consists of 01 Officer, 14 airmen and 05 air women were taken part for all 27 events under three categories respectively open, production and standard. The SLAF shooters adjudged as 'champions' with an unreachable lead by wining total of 11 Golds, 09 Silver and 07 Bronze medals.

Awarding ceremony was held on 04 October 2020 at Hill Country Sports Shooting Range, Kandy under the patronage of the Minister of Sports & Youth Affairs Hon. Namal Rajapaksha. Further, Cabinet Minister of Road Development Hon. Johnston Fernando, President National Rifle Association of Sri Lanka and Chairman SLAF Shooting Air Commodore Janaka Amerasinghe graced the occasion as guest of honors.

Following are the Medals won by SLAF shooters during the event.

RESULTS OF IPSC SHARP SHOOTER CHAMPIONSHIP -2020
Production Division Individual (Men)
017713 Corporal Fernando PMMR - Gold Medal
Open Division Individual (Men)
34076 Corporal Wijesooriya NP - Gold Medal
34486 Corporal Fernando HKDD - Silver Medal

Open Division Individual (Women)
AW/3066 Corporal Mudunkoth MGDPK - Silver Medal
Standard Division Individual (Women)
AW/3651 Leading Aircraftman Wickramasinghe HDCL - Silver Medal
AW/3429 Corporal Mekala AT - Bronze Medal
Shotgun Standard Division Individual (Men)
34486 Corporal Fernando HKDD - Gold Medal
37589 Corporal Madushanka RGP - Silver Medal
Shotgun Standard Division Individual (Women)
AW/3066 Corporal Mudunkoth MGDPK - Silver Medal
Shotgun Standard Manual Division Individual (Men)
017713 Corporal Fernando PMMR - Bronze Medal
Shotgun Standard Manual Division Individual (Women)
AW/3232 Leading Aircraftman Chamila Kumari HK - Gold Medal
AW/3651 Leading Aircraftman Wickramasinghe HDCL - Silver Medal
AW/2908 Corporal Waidyarathna WMS - Bronze Medal
Man Vs Man Open Division
34486 Corporal Fernando HKDD - Gold Medal
34076 Corporal Wijesooriya NP - Bronze Medal
Man Vs Man Production Division
017713 Corporal Fernando PMMR - Gold Medal
37197 Corporal Pryashan HTWJ - Bronze Medal
"Bianchi Cup" Overall Production Division
017713 Corporal Fernando PMMR - Silver Medal
37197 Corporal Pryashan HTWJ - Bronze Medal
"Bianchi Cup" Overall Open Division
34076 Corporal Wijesooriya NP - Gold Medal
Open Division (Men) team Champion
34076 Corporal Wijesooriya NP - Gold Medal
34486 Corporal Fernando HKDD
37589 Corporal Madishanka RGP
018988 Corporal Gayashan HST
Production Division Team (Men) 1st Runner Up
36393 Corporal Kodithuwakku GH - Silver Medal
37197 Corporal Priyashan HTWJ
017713 Corporal Fernando PMMR
42180 Leading Aircraftman Chathuranga LLC
Standard Division Team (Men) 2nd Runner Up
37058 Corporal Bandara KADS - Bronze Medal
014855 Corporal Padmasiri JPH
022251 Corporal Vithana PEGNM
36799 Leading Aircraftman Bandara SKGNS
Standard Division Team (Women) Champion
AW/2908 Corporal Waidyarathna WMS - Gold Medal
AW/3429 Corporal Mekala AT
AW/3232 Leading Aircraftman Chamila Kumari HK
AW/3651 Leading Aircraftman Wikramasinghe HDCL
Shotgun Standard Division Team (Men)
34076 Corporal Wijesooriya NP - Gold Medal
34486 Corporal Fernando HKDD
37589 Corporal Madishanka RGP
018988 Corporal Gayashan HST
Shotgun Standard Manual Division Team (Men)
36393 Corporal Kodithuwakku GH - Silver Medal
37197 Corporal Priyashan HTWJ
017713 Corporal Fernando PMMR
42180 Leading Aircraftman Chathuranga LLC
Shotgun Standard Manual Division Team (Women)
AW/2908 Corporal Waidyarathna WMS - Gold Medal
AW/3429 Corporal Mekala AT
AW/3232 Leading Aircraftman Chamila Kumari HK
AW/3651 Leading Aircraftman Wikramasinghe HDCL