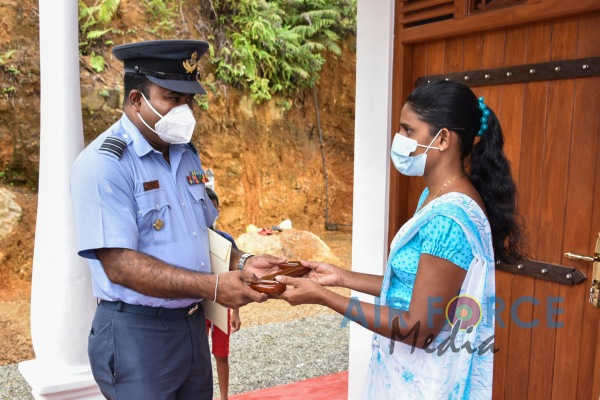 SLAF SEVA VANITHA UNIT CONDUCTS HOUSE WARMING CEREMONY
5:06pm on Monday 3rd May 2021
A house constructed by the SLAF Seva Vanitha Unit (SVU) was handed over to the family of Leading Aircraftman Piyananda MADS (Deceased) on 30 April 2021. The house was constructed under guidance of the Chairperson of SLAF Seva Vanitha Unit, Mrs. Charmini Pathirana.
This Project was funded by the SLAF Seva Vanitha Unit while construction was carried out by SLAF Base Rathmalana. The overall project was completed under the supervision of the Directorate of Civil Engineering and the Base Commander of SLAF Base Rathmalana, Air Commodore NHDN Dias.
Due to the prevailing situation of COVID-19 the ceremony was held with very limited participation. The Officer Commanding Personnel Services, Wing Commander PPM Silva and Officer Commanding Works Services, Squadron Leader BUP Bogahawatta of SLAF Base Ratmalana were present for the occasion.