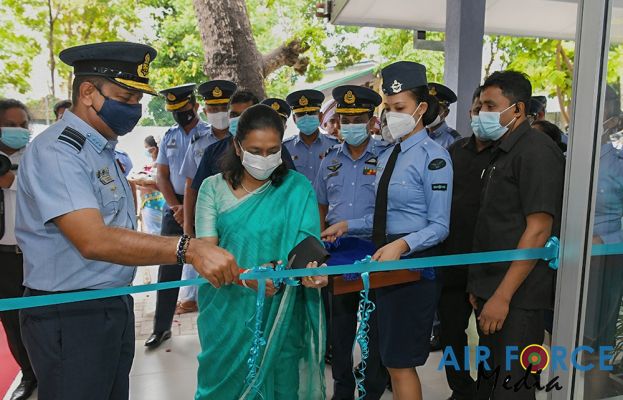 NEWLY CONSTRUCTED SKY PET ANIMAL HOSPITAL DECLARED OPEN
3:47pm on Wednesday 7th July 2021
On the invitation of the Commander of the Air Force, Air Marshal Sudarshana Pathirana the newly constructed Sky Pet Animal Hospital was declared open by the First Lady of Sri Lanka, Mrs. Ioma Rajapaksa yesterday (06 July 2021) at Guwanpura. The First Lady was received on her arrival by the Commander, Mrs. Charmini Pathirana and members of the Air Force Board of Management.
Mrs. Rajapaksa unveiled the opening plaque after which she cut the ceremonial ribbon and there by declared open the newly constructed Sky Pet Animal Hospital at Guwanpura. She also made the first registration of a pet and there after was conducted on a tour of the hospital where she was briefed on its facilities and unique services which will be on offer. Before departing, the First Lady was also presented with a memento by the Commander to mark this historical occasion.
The Sky Pet Animal Hospital of the SLAF is an inhouse solution specially developed to cater for the management of animal resources with special emphasis on Canines and Felines. The SLAF has a special Air Dog Unit at Katunayake which deploys Air Dogs at locations such as International Airports. The special services provided by the Sky Pet Animal Hospital ensures that continuous care is being provided for these specially imported canines who are trained in the detection of dangerous and narcotic substances at airports. In addition, services of this hospital can be availed by the general public as well at a very concessionary rate.
The Sky Pet Animal Hospital which is now open to the public can be contacted through the telephone numbers given below.
Sky Pet Animal Hospital
Guwanpura,
Colombo 8
Telephone:
0113144447
0112495800