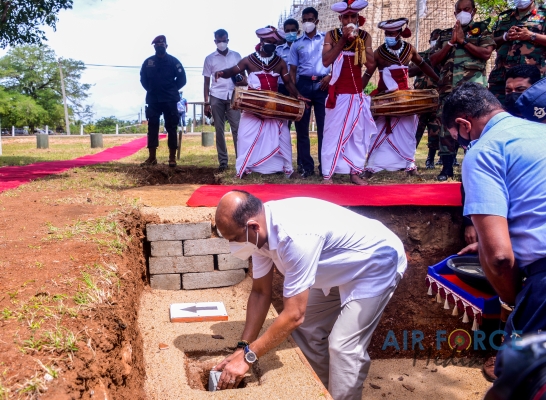 FOUNDATION STONE PLACED FOR SANDAHIRU SEYA MUSEUM
4:05pm on Sunday 11th July 2021
The laying of foundation stone at Sandahiru Seya Museum was held yesterday (10 July 2021) under the patronage of Secretary to the Ministry of Defence, State Ministry of National Security and Disaster Management, General Kamal Gunaratne (Retd).

The solemn occasion was held under the auspices of Maha Sanga and was attended by the Acting Director Civil Engineering, Air Commodore HWMU Wijesinghe and Base Commander SLAF Base Anuradhapura along with a cross section of Officers and Airmen representing the Sri Lanka Air Force. Senior Officers of the Sri Lanka Army representing Security Forces Vanni and the MOD were also present.

In line with the directives of the Commander of the Air Force, Air Marshal Sudarshana Pathirana, the proposed building is planned to be constructed by the Directorate of Civil Engineering through the Civil Engineering Squadron at SLAF Base Anuradhapura.