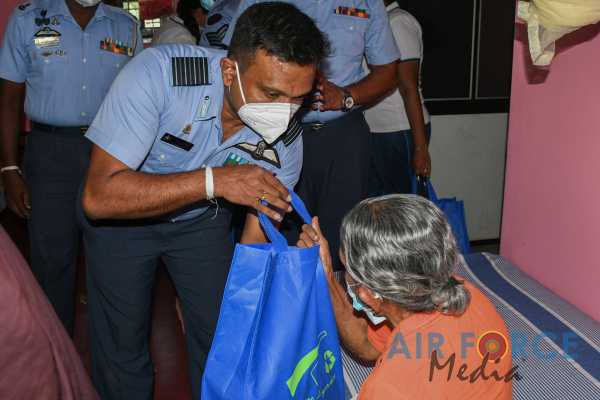 08TH PHASE OF GUWAN MITHUDAM PROJECT COMPLETED AT HINGURAKGODA
5:47pm on Sunday 1st August 2021
The 8th phase of "Guwan Mithudam" project was conducted by SLAF Base Hingurakgoda yesterday (31 July 2021) under the guidance of Chairperson SLAF Seva Vanitha Unit, Mrs Charmini Pathirana. During this community project the "Sarana Buddhist Foundation Mapiya Sevana" elderly home at Madirigiriya was renovated and handed over to its residents. The President of Seva Vanitha Unit SLAF Base Hingurakgoda, Mrs Beenu Pindeniya and the Base Commander of SLAF Base Hingurakgoda, Group Captain Prasanna Kuruwita participated for the event.
The overall project was completed under the supervision of Group Captain Prasanna Kuruwita, the Base Commander of SLAF Base Hingurakgoda, in which, living in standards were improved in the accommodation area, kitchen and surroundings by colour washing the buildings, renovating damaged walls and the roof of the building, paving interlocking bricks and cleaning the surroundings.
Further, during the event a new water boiler was donated along with dry ration packs which were distributed among the residents of the elders home. A cross section of Officers and Other Ranks of SLAF Base Hingurakgoda were present for the event.