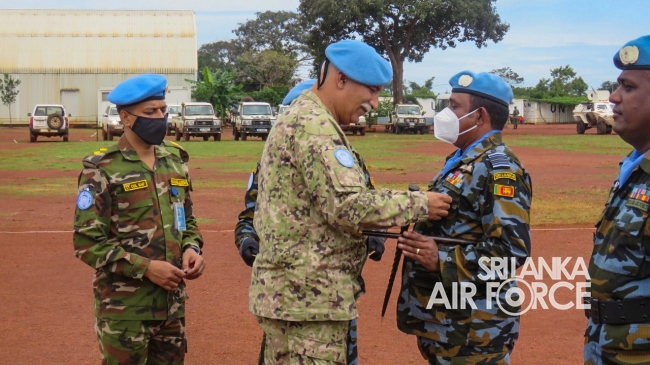 MEDAL AWARDING CEREMONY OF 6TH SRI LANKAN AVIATION CONTINGENT IN CENTRAL AFRICA
1:52pm on Thursday 16th September 2021
The United Nation Service Medal Awarding Parade of 6th Sri Lankan Aviation Contingent, Multidimensional Integrated Stabilization Mission in the Central African Republic (MINUSCA) was held on 14th September 2021 at the Contingent premises in Bria, Central African Republic with all necessary precautionary measures against the COVID 19 pandemic.

Deputy Force Commander, Major General Paulo Maia Pereira graced the occasion as the Chief Guest and was received by the 6th Sri Lankan Aviation Contingent Commander, Wing Commander Jeeth Samarasekara. It is noteworthy to mention that the local community leaders were also invited for this event to enhance more interaction between United Nations Senior Leadership and other key elements in Central Africa. The Medal Parade was commanded by Wing Commander WGND Wewakumbura.

The Parade was followed by Sri Lankan cultural events and a Drill Display performed by contingent members. Pictorial memories of the Sri Lanka Aviation Contingent from its induction to MINUSCA was displayed as the backdrop adding glamour to the Parade. The combined dance performances done on the concept of uniting aesthetic cultural values of two continents was a strong sign of unity at MINUSCA. These performances were presented by Sri Lanka Aviation Contingent and the Zambian Battalion personnel was greatly appreciated by the senior leadership of MINUSCA.

During the address by the Chief Guest, it was specially emphasised that the Sri Lankan Aviation Contingent was the first Aviation Contingent deployed in MINUSCA and highly appreciated all the Air Operations successfully conducted in Sector East Theatre and the Civil-Military Co-Operation (CIMIC) activities carried out by this Contingent even with the COVID-19 pandemic situation.

The proceedings concluded after the taking of a group photograph with the Chief Guest which was followed by a social event and a lunch comprised of Sri Lankan delicacies, along with Sri Lankan music provided by the Sri Lanka Aviation Calypso Band.