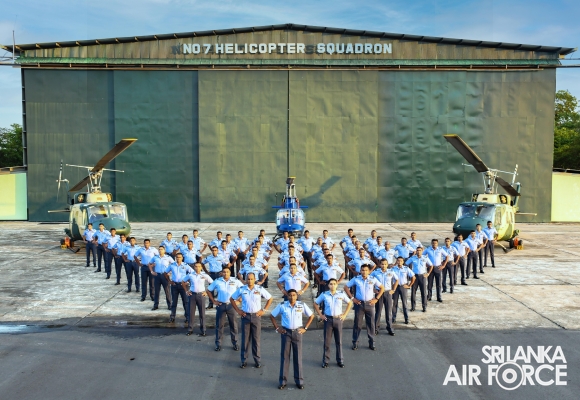 "CRADLE OF HELICOPTER PILOTS" CELEBRATES 27 YEARS OF DEDICATED SERVICE TO THE NATION
3:38pm on Thursday 23rd September 2021
The No 7 Helicopter Squadron, also known as the "Cradle of Helicopter Pilots", located at Sri Lanka Air Force Base Hingurakgoda asserts of a glamorous history from 1994 to date, by rendering 27 years of dedicated service to the nation.

The Squadron was initially established as the No 401 Squadron on 23 September 1994 comprising with Bell 212 and Bell 206 Helicopters and was re-designated as the No 7 Squadron on 23 March 1996. The undeniable role played by the Squadron was able to contribute to many a victories throughout the war. Further, it keeps on assisting the nation with its aircraft fleet in hours of need. In recognition of the services provided to the nation the Squadron was awarded with the Presidential Colour on 02 March 2019.

Marking the 27th milestone, a customary Working Parade was held at the Squadron premises which was reviewed by the Commanding Officer, Group Captain Sameera Gunawardane RSP and two Bars, USP, MSc (Def & Strat Stu), psc. Whilst addressing the gathering he extended his appreciation for contribution made by the each and every Squadron member in achieving the objectives of vision of the Sri Lanka Air Force.

The squadron carried out several Community Service Projects with strict compliance to COVID-19 health guidelines and protocols which included a "Shramadana Campaign" at the "Bosath Childrens" Orphanage at Hingurakgoda and a distribution of dry ration packs among the underprivileged families in area. Further, a 'Bodi Pooja' and a "Pirith" chanting programme were also held at Hingurakgoda Buddhist Center commemorating the fallen heroes of the Squadron and also to invoke blessing on present squadron personal and their families.