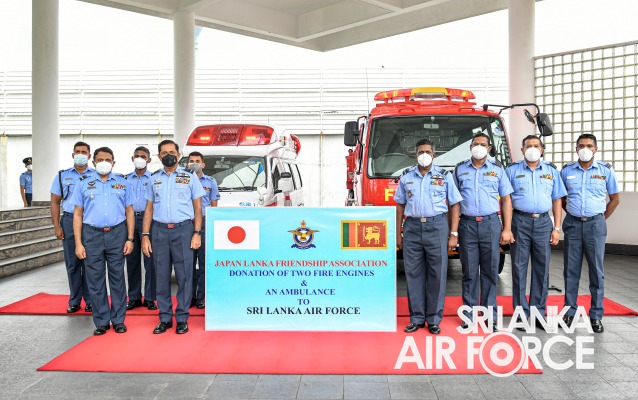 JAPAN LANKA FRIENDSHIP ASSOCIATION DONATE 2 FIRE VEHICLES AND AN AMBULANCE TO THE SLAF
6:04pm on Tuesday 5th October 2021
The Japan Lanka Friendship Association yet again made a generous donation to the Sri Lanka Air Force at a ceremony held at Air Force Headquarters this evening (05 October 2021). The Commander of the Air Force, Air Marshal Sudarshana Pathirana graced the ceremony where the SLAF received two (2) Fire Vehicles and an Ambulance.
The SLAF received these generous donations through the tireless efforts of Dr. Lal Thilakaratne and the Japan Lanka Friendship Association who made all necessary arrangements to bring down these vehicles even with numerous restrictions in place due to the COVID-19 pandemic situation.
Due to the pandemic situation, officials of the Japan Lanka Friendship Association were not able to participate from the ceremony physically. However, with the use of virtual technologies, Dr. Lal Thilakaratne was connected and was able to witness the proceeding of the entire ceremony. Further, the Commander also held a discussion with Dr. Thilakaratne through a virtual platform where he conveyed his gratitude for the continued support which has been done over the years by the Japan Lanka Friendship Association to the SLAF. The event was attended by the Director Air Operations, Air Vice Marshal Kapila Wanigasuriya, Director Health Services, Air Vice Marshal (Dr.) Lalith Jayaweera, the Chief Fire Officer of the SLAF, Group Captain Sanjaya Vithana and a few Officers from Air Force Headquarters. The event was held in accordance with health guidelines for the prevention of COVID-19.