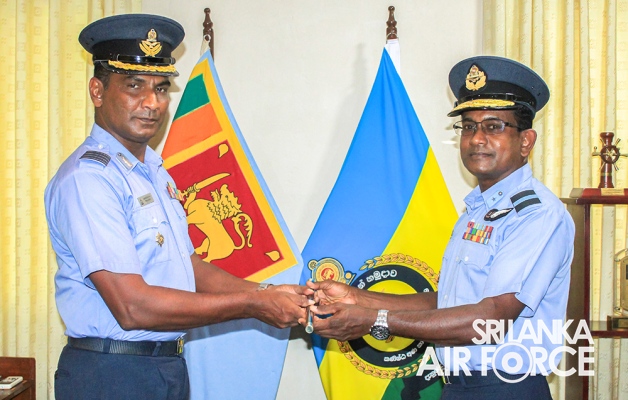 CHANGE OF COMMAND AT THE JUNIOR COMMAND AND STAFF COLLEGE AT CHINA BAY
3:18pm on Saturday 9th October 2021
The Change of Command of the Junior Command and Staff College (JC&SC) at SLAF Academy China Bay took place yesterday (08 October 2021). The incoming Commanding Officer, Air Commodore PLLCS Alwis RSP and Bar, USP, MDS, BSc (Def Stu) in Mgt, psc took over command of the College from the outgoing Commanding Officer, Group Captain MCM Fernando MSc (Def Stu) in Mgt, MSc (Def & Strat Stu), BSc (Def Stu), psc who commanded the College from 22 December 2020.

The outgoing Commanding Officer, Group Captain Fernando will be proceeding to SLAF Base Ratmalana to take up duties as the Base Quality Assurance Officer. During the brief handing over taking over ceremony, he highlighted the objectives of the JC&SC and emphasized the importance of nurturing Junior Officers, empowering and grooming them to think freely and work collectively towards achieving the organizational goals.

Also, he requested all personnel at the College to support the incoming Commanding Officer to uplift and continue the vital contribution being done by the College.