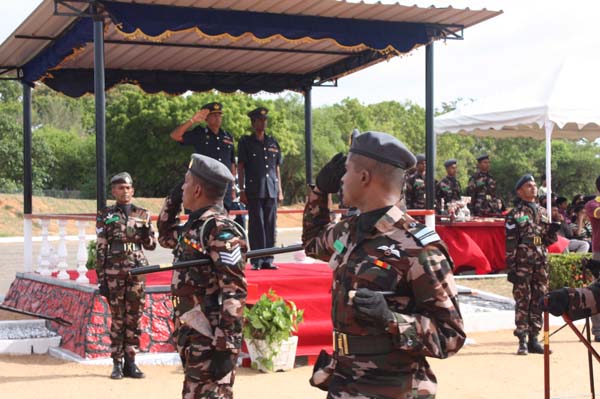 Yet Another Batch of Recruits Join the SLAF Cadre
2:39pm on Thursday 3rd September 2009
A total of 394 recruits from the 137th Regular and 95nd Volunteer Course passed out today (03 September 2009) at SLAF Base Hingurakgoda after completing 17 weeks of challenging training. The training focused on drill, weapon training, tactics, field craft, map reading, fire fighting, explosive handling, Humanitarian Law, Air Force Law and Combat First Aid. In addition to this 18 Air Gunners from the No.11 Air gunner Course also passed out at this parade.
The Parade was commanded by Squadron Leader SDDJ Ranasinghe, Chief Instructor Recruit Training, SLAF Base Hingurakgoda Training Wing. Parade Adjutant was Flying Officer RV Jayasinghe and Parade Warrant Officer was Flight Sergeant Rupasinghe RPDN.
The personnel passing out also displayed their newly learnt skills on foot drill, un-armed combat and bayonet assault. In addition a Heli-Rappelling demonstration by the Regiment Special Forces and Sky-Diving display by the Parachute Training School made the event more colorful.
The Chief Guest for this special occasion was Air Commodore GP Bulathsinghala RWP, RSP M.Phil, USP,ndc,psc