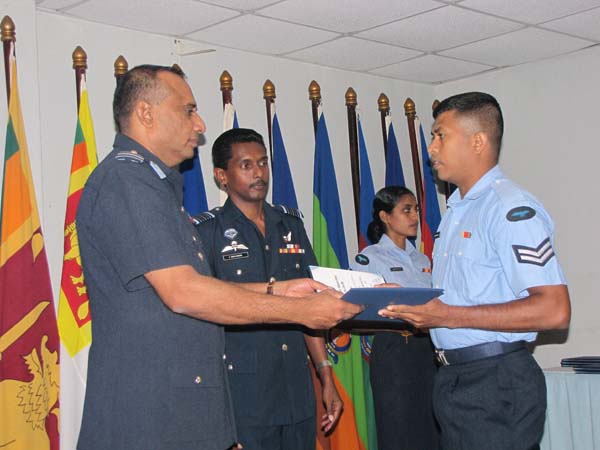 SLAF Produces Another Batch of Academically Qualified NCO's
4:08pm on Thursday 3rd September 2009
The NCO Management School, located at SLAF Base China Bay, established with the sole intention of providing a sound academic knowledge to the Non Commissioned Officers of the SLAF, held its 39th batch passing out ceremony this morning (03 September 2009). This course which has a duration of approximately 3 months, mainly focuses on sharpening the leadership and management skill of its trainees.
The Award ceremony was held at the NCO Management School Auditorium at SLAF Base China Bay in which Air Commodore S Rambukwella was invited as the Chief Guest. Director Training (SLAF) Air Commodore AM De Zoysa, Base Commander SLAF Base China Bay Group Captain NHV Gunaratne were among the other distinguished guest to attend this event.
Wing Commander NNDA Nanayakkara functions as the Commanding Officer of this school whilst Squadron Leader VTS Sirimanne and Squadron Leader MS Kumarage play the roles as Chief Instructor and Senior Instructor respectively. This 61 member batch comprised of 30 Senior Non-Commissioned Officers and 31 Junior Non Commissioned Officers and the award winners are as follows.
Award Winners:
Best All Round SNCO : F/Sgt Aberaja RD
2nd Place SNCO : F/Sgt Abeykoon AMBP
3rd Place SNCO : F/Sgt Premarathne WWG
Best All Round JNCO : Cpl Fernando WISR
2nd Place JNCO : Cpl Pradeep Kumara GVL
3rd Place JNCO : Cpl Rathnakumara IDS
Best Public Speaker SNCO : Sgt Jayantha WN
Best Public Speaker JNCO : Sgt Samarasinghe MN
Fittest SNCO : Sgt Jayantha WN
Fittest JNCO : Cpl Wijebandara RUGN