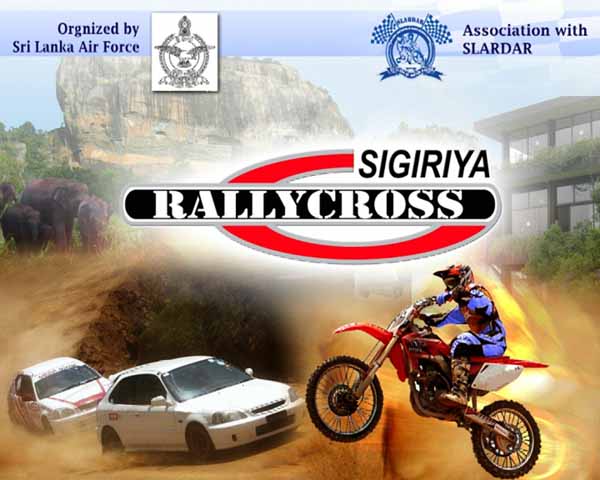 Launching of 'Sigiriya Rally Cross' - 2009
7:03pm on Tuesday 8th September 2009
The launching of '
Sigiriya Rally Cross
' and press briefing regarding the same was held during morning hours of the day (08 September 2009) at the SLAF Head Quarters. Sri Lanka Association of Racing Drivers and Riders, better known as
SLARDAR
, a premier Motor racing organization in the country, conducting such events as the Foxhill, Gunners and Gajaba Supercross events, Rotherham Katukurunda(Air Force) Meet and other major motorsport events, in conjunction with the
SRI LANKA AIR FORCE
, for many reasons, embarked on a project to construct a purpose built 'rally cross' track, combining a part of the paved air strip and a section of the surrounding land.
This project would help to provide a source of much needed entertainment for the folk of the area, provide an opportunity for the Air Force to interact with the civil population by building 'bridges' of cooperation and understanding between themselves, provide an opportunity to enhance business opportunities for the many hotels, guest houses, restaurants and other trades around Sigiriya Rock by capitalize on the expected large influx of visitors to witness the event , provide an ideal rally cross track for all motor sport enthusiasts and help youngsters in the area to take up to autocross sport by observing some of the best drivers and riders in the country tackling this challenging track. The event would definitely help to stimulate economic growth in the area. It is the intention to stage this event annually.
The 'Track' is made-up of the air strip itself and a part of the surrounding land on a 40 % (tarred track) to 60% (gravel track) basis. The inclusion of sharp 2nd gear corners and sweeping third gear corners, adding up to some 10 corners, will provide a thrilling viewing experience for the spectators. The paved landing strip will provide opportunity for high speed and the gravel track with a number of designed corners will provide an opportunity to highlight the driving skill of the competitors. The track, in general, could be designated as being 'Fast'. There will be around 22 events for both motorbikes and cars.
The riders are challenged by a number of rammed earth 'Jumps', table-tops, and other autocross features and should bring to the forefront their ability and skill in tackling this purpose built track. Every possible feature associated with an event of this nature, with special emphasis on safety for both spectators and competitors have been incorporated in laying this track. Thus, all in all an interesting, spectacular and enjoyable event is on the cards.
The event is scheduled for the 27th of September, 2009. Practice for competitors will be on the 26th of September.