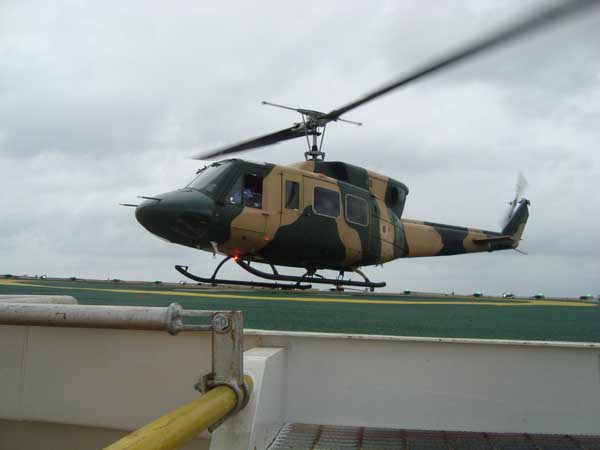 3:03pm on Thursday 24th September 2009
Professionalism of the SLAF reiterated when it flew to assist the uninterrupted economic operations of Sri Lanka.
MV Armada Perbana was a Malaysian Merchant vessel, used for oil rigging. Sailing to Nigeria, the ship faced technical difficulties and was forced to undergo repairs, which is done by agents based in Sri Lanka. Subsequent to such repairs obtain a certification by certified surveyors with regard to the vessels sea-worthiness is a global practice. For this particular certification the said surveyors were flown in from Singapore. However, due to the adverse ocean conditions boats could not be used to transport them to the vessel anchored 2 - 3 nautical miles off of Galle harbor and the only possible means of transporting the surveyors was through air.
The local agent for the shipping company known as GAC Shipping (PVT) Ltd. contacted SLAF Helitours to inquire on the feasibility of assisting in transporting the surveyors to MV Armada Perbana. On 19th September 2009, The SLAF pilots promptly responded to this request made taking it as a challenge to prove their competence and professionalism. Within a couple of hours Bell 212 Helicopter belonging to SLAF took off from Colombo carrying the concerned parties and safely landed on the deck of the merchant vessel.
The footage of the Bell 212 making the landing on the deck of the merchant vessel is below.