Infrastructurally in the same year, a Dental Unit was set up at RCyAF Station at Katunayake initially in a renovated building formerly used by the RAF as their cookhouse! A shift to its present location took place very soon thereafter. The first Dental Officer was Flt Lt S. Gunasinghe.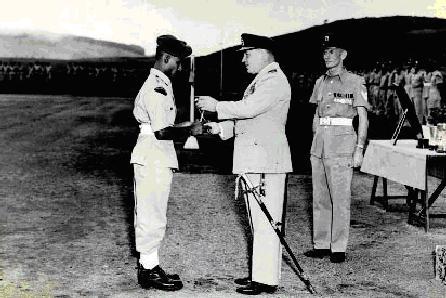 Commander Barker also reactivated some of the disused RAF airfields viz. Puttalam, Koggala, Sigiriya and Vavuniya clearing shrubs and jungle that threatened to engulf them. Though these airfields played no role in a regular operational sense, they became venues for special exercises of the RCyAF.
In March 1960, Gp Capt Whittingham the Commanding Officer of RAF Hospital, Katunayake formally handed over the Hospital and its administration to Flt Lt C.E. Puvimanasinghe of the RCyAF. Thus, the RAF Hospital became the RCyAF Hospital, and Flt Lt Puvimanasinghe became its first CO. The Regiment Squadron was formed under Flt Lt Gerry W. Weeraratne in 1960 to provide ceremonial Guards of Honour, ceremonial street linings etc. and to provide security for bases and airfields of the Air Force.
The Barker Years drew to a close in 1962. Air Vice Marshal John Lindsay Barker relinquished command of the RCyAF and bade Ceylon farewell. Shortly after, he was honoured by Her Majesty Queen Elizabeth the II of Great Britain by being made Commander of the Military Division of the Order of Bath
The First Ceylonese Commander
Air Commodore E. Rohan Amarasekera DFC took over as the first Ceylonese Commander of the RCyAF, succeeding AVM Barker If Commanders Bladon and Barker had set up and developed the RCyAF, Air Commodore Amarasekera consolidated it.
Air Cdre Amarasekera also introduced the official language, Sinhala, into the day to day working of the Force.