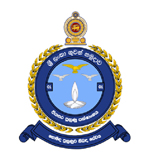 Badge
The badge denotes that the yellow Eagle guiding the two white coloured eaglets with the continuous knowledge and wisdom just as the oil lampbrightens the dark continuously.
Moto
NomadapuhunuwaNibadaSewaya(Sinhala) Good training will provide continuous service.
Key Dates
01 September 1951 - Beginning of No.1 Flight at Royal Ceylon Air Force Base Katunayake
1963 - Shifted to Royal Ceylon Air Force Base China Bay and renamed as No.1 Flying Training Wing
11 August 1988 - Relocated to Sri Lanka Air Force Base Anuradhapura
01 January 2009 - Relocated to Sri Lanka Air Force Academy China Bay
2010 - No.14 Advanced Training Squadron absorbed to No.1 Flying Training Wing
Operating Aircraft
Cessna 150
PT-6
K-8
Vision
To become the premier training institution for aviation professionals in the region.
Mission
To inculcate and maintain the highest standards of ethical conduct, commitment and professional competence among our trainees.
To provide basic flying training to flight cadets of the Sri Lanka Air Force.
To conduct Advanced and Fighter Conversion training courses for pilots.
To conduct Basic Air Traffic Control Courses.
To provide limited Air Defence through the use of K-8 as an interceptor.