A decision was made to decentralize the TMD and as a result the Aircraft Engineering Wing, the General Engineering Wing and the Motor Transport Repair and Overhaul Wing were formed. With effect from 1st January 1979 Squadron Leader Jim Gunaratnam took command of the Aircraft Engineering Wing.
The Pazmany PL2 project made history in the SLAF. Squadron Leader Jim Gunaratnam and his team from AEW took charge of the project. The Pazmany was an aircraft designed by Laszlo Pazmany, a very successful aircraft engineer of Argentinian birth, but residing in the USA When the SLAF decided to build the Pazmany as an experimental exercise.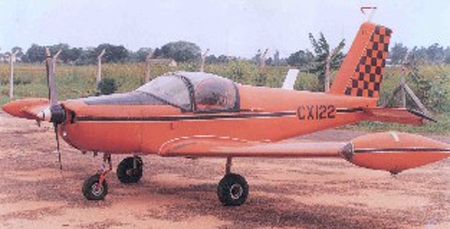 They found the insurgency had done them a favour, for there seemed to be plenty of 20 and 22 gauge material around, suitable for aircraft construction purposes. The Pazmany PL2 began to take shape; the complete frame was turned out at Katunayake. The engine specified in the specs was actually the 0-135 Lycoming. However, the Continental 0-200 engine was chosen - the same unit that powered the Cessna 150.
The Pazmany PL2 was built and ceremonially test flown at a passing out parade at China Bay in the distinguished presence of H.E. The President the late Mr J.R. Jayewardene. The Pazmany project gave rise to plenty of valuable research and expertise. Fabrication processes of fibre glass cowlings, panels, ducts, interior furnishings, fabrication of aircraft control cables and proof testing them, use of wax moulds for sheet metal processing - manufacture of precision aircraft components such as under carriage cylinders, axle mounts, main spars, longerons, etc, were all accomplished at the time.
The Pazmany and indeed the Riley Heron Conversion programmes imparted invaluable expertise to the SLAF. The AEW went on, in later years, to perform some prodigious work, in the finest traditions of aviation engineering, mostly for the Air Force, but also for international civilian operators.
The Mechanical Transport Depot became the Mechanical Transport, Repairs & Overhaul Wing on 1st January 1979. Its first Commanding Officer on that day was Sqn Ldr U. Wanasinghe. The MTR & O Wing handled the overhaul of all SLAF vehicles light, heavy, armoured and specialised. It also established MT cells for all vehicles allocated to Air Field Units. They also operate a Command Reserve of SLAF vehicles for deployment with the Commander's authority.
The General Engineering Wing was also born in January 1979. This was hitherto the General Engineering section of the Technical Maintenance Depot (TMD), which provided workshop surface finishing and ground support equipment repair facilities to all bases and units of SLAF. The GEW consists of the General Workshop, the Photographic Section, the Surface and Finishing Section, the Ground Equipment Section and the Armoury. Sqn Ldr A.P. Samarakoon was the first Commanding Officer of this Wing.