A hasty summoning of the Security Council at 9 p.m. on the 5th of April was the beginning of a fourteen-day vigil in which the Air Force was strained beyond expectations. At midnight, a telephone call to Control Room, an excited voice stating that the SLAF Electronics Base at Ekala was under attack, and the battle had commenced.
Each minute that passed gave news of different police stations being attacked, some on the outskirts of Colombo. At one o clock in the morning, a sleepy helicopter pilot was rushed from the Colombo Officers Mess, to his Bell Jet Ranger helicopter parked on the cricket grounds, for a reconnaissance in and around Colombo.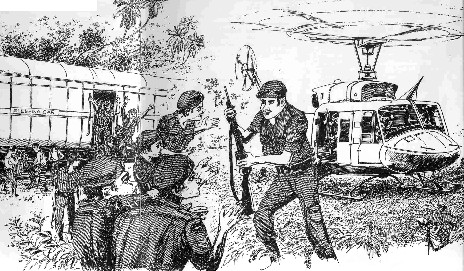 Three Bell 206A Jet Ranger helicopters were all we had, and to fly them just 6 pilots! The airlift commenced at 1245 hours on 6th April and went on, day and night, for 5 days, only carrying sufficient ammunition to each station for 24 hours so that every Police station could be supplied.
In these five days the three helicopters and their pilots flew 73 supply missions totalling 122 hours flying, and carried 36,500 lbs. of ammunition. The return flights to Colombo were not flown empty . Casualties had to be brought back, and more important, these helicopters were required to attack insurgents strongholds from the air. By the end of April, these three helicopters had carried nearly 900 troops and 100,000 lbs. of freight!