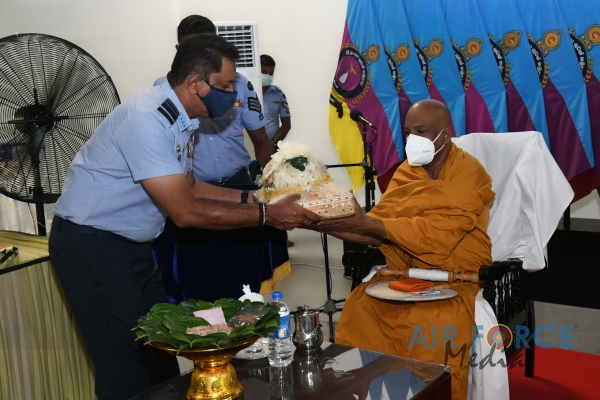 SLAF CONDUCTS MULTI-RELIGIOUS CEREMONY TO COMMEMORATE FALLEN HEROES
7:39pm on Monday 19th July 2021
The Sri Lanka Air Force conducted a Multi-Religious Commemorative Ceremony today (19 July 2021) at SLAF Base Katunayake under the patronage of the Commander of the Air Force, Air Marshal Sudarshana Pathirana. The SLAF which usually conducts religious ceremonies annually to commemorate those who made the supreme sacrifice was compelled to hold a singular event this year due to the prevailing COVID-19 pandemic situation.

This year's event was held at the Sports Arena located at SLAF Base Katunayake with the participation of members of the Air Force Board of Management, Base Commander of SLAF Base Katunayake and a cross section of Officers and Other Rankers with adherences to health guidelines issued by the Ministry of Health. Offering were made to Venerable Maha Sanga and clergy from all religious faiths in order to invoke blessings on those who gave their lives for our future.

This years Multi-Religious Ceremony was organized by the Directorate of Welfare together with the on-ground support of SLAF Base Katunayake.