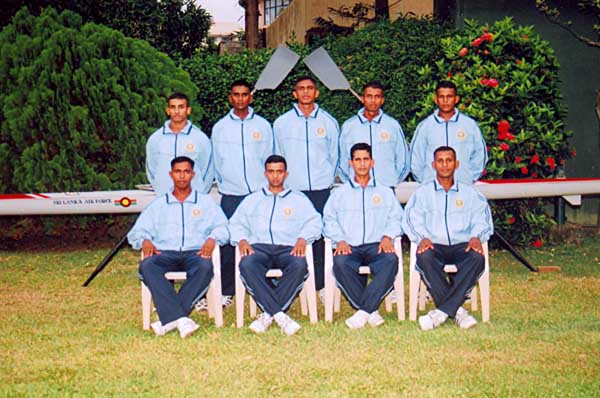 Air Force Rowing in Preparation for the 25th National Rowing Championships
9:10am on Monday 24th August 2009
The Sri Lanka Air Force Rowing team is presently under rigorous training for the forthcoming 25th National Rowing Championship Regatta with much enthusiasm. The team's performance at the 24th National Rowing Championships in year 2008 was praiseworthy. The team was able to win two Gold medals, two Silver medals and three Bronze medals in the Men's Open and Men's Over 23 Categories. Also this achievement in particular is noteworthy due to the fact that the medals were won by a mere four member team after rowing against some of the experienced crews of Sri Lanka Navy and the Colombo Rowing Club.


Rowing was introduced to Sri Lanka Air Force in year 2004 and since then has been represented at the National Rowing Championships and many club level regattas. However, due to the operational commitment of the Sri Lanka Air Force the number of Oarsmen has remained to a few permanent members over the years.

Rowing which can be considered as the ultimate team sport requires the skill and endurance of each member equally. This year the team comprising of a 09 member squad consisting of five novices is expected to row in the Men's Open and Men's Over 19 categories. However, unlike in the previous years the physical and psychological strength of the team will be tested to the extreme limits with introduction of the 2 km racing distance which is the standard international racing distance of the sport.

The team is captained by Squadron Leader K G Dassanayake and he is assisted by experienced oarsmen, the Vice Captain of the team Corporal Aloysius C and Corporal Tharanga TMLP. The Air Force team will lock their blades in the waters of the Bolgoda Lake from 7th to 12th September 2009 against teams such as their arch rivals the Sri Lanka Navy Rowing Team and crews from the University of Moratuwa and the S.Thomas' College Mt. Lavinia, who are also expected to give stiff competition.