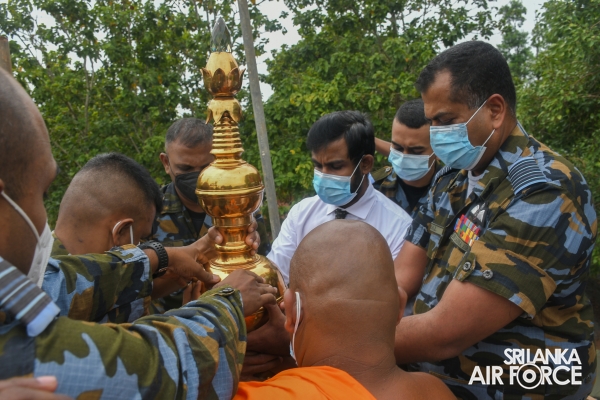 NEWLY CONSTRUCTED STUPA AT KANUGAHAWEWA ABINAWARAMAYA GIFTED TO SANGHA SASANAYA
11:12am on Tuesday 21st September 2021
The Kebithigollewa, Kanugahawewa Model Village Development Project which was vested by the President, His Excellency Gotabaya Rajapaksa as a result of the "Gama Samaga Pilisandara" program conducted at Kebithigollewa was undertaken by the Sri Lanka Air Force under the direction of Commander of Air Force, Air Marshal Sudarshana Pathirana in line with the 70th anniversary of the SLAF. The development project has reached completion of its third phase successfully.

In line with the Model Village Development project SLAF constructed a Stupa at Abinawaramaya Temple which was a shortfall for years to the villagers. The Abinawaramaya Temple is the only Buddhist Religious Centre in the Kanugahawewa Village where 314 Buddhist families and approximately 942 Buddhists are resided at. The newly constructed Stupa was entirely funded and laboured by the SLAF. The opening of the Stupa was followed by a series of traditional rituals which commenced on 16 September 2021 by placing of treasures inside the Stupa at the auspicious time scheduled at 0921 hours.

Further, the villagers were given opportunity to witness the relics which were to be treasured inside the Stupa for three days commencing from 17 September 2021 adhering to the government health protocols declared to prevent the spread of COVID-19. Treasuring of Relics inside the Stupa and placing of Pinnacle took place yesterday (20 September 2021). All the rituals were conducted over five days under the guidance of Venerable Maha Sanga and with the precedence of the Base Commander SLAF Base Vavuniya, Group Captain Amal Perera. The SLAF Hewisi Team contributed in conducting the 'Shabda Pooja' during all the rituals.

This entire development project was handled by the Directorate of Civil Engineering under the leadership of the Acting Director Civil Engineering, Air Commodore Udula Wijesinghe. Based on the location of the Kanuhagawewa Village, SLAF Base Vavuniya is entrusted with coordinating all matters related to this worthy cause.