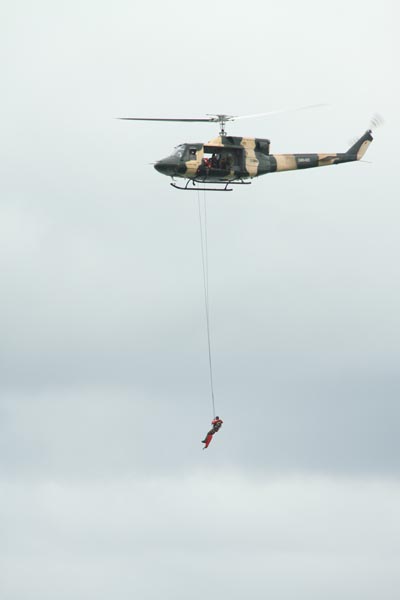 54 Rescued by SLAF Choppers from Batti Floods
3:24pm on Tuesday 11th January 2011
Pregnant woman moved to safety on Bell 212
Sri Lanka Air Force Bell 212 helicopter rescued 54 persons from Batticaloa and Ampara since yesterday evening owing to the devastating flood situation prevailing in the area.
The chopper carried out three shuttles for the rescue mission where 32 individuals from Tampitiya, 14 from Bogamuyaya, 7 from Rambakanoya and 1 from Valaichenai were flown away for safety from the flood waters which have ravaged the Batticaloa District with the recent heavy rains.
Meanwhile a SLAF Mi-17 carried out a ration drop at Thoppigala this morning, providing relief aid to flood victims. The Bell 212 helicopter transported a pregnant lady from Valaichchenai to Polonnaruwa Hospital.
The rescue missions which commenced yesterday afternoon were completed this morning.
SLAF aircrafts are still standing by ready to assist the people.