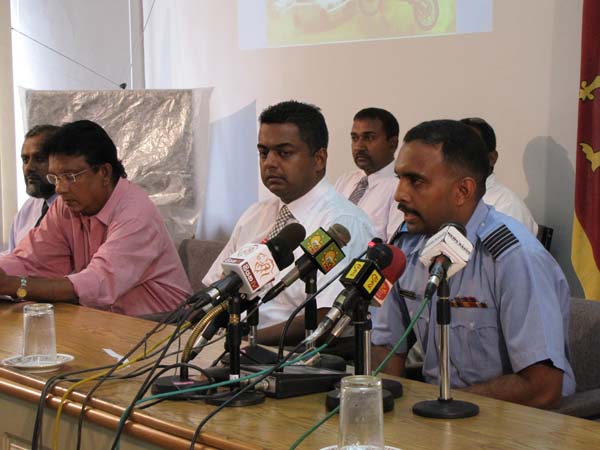 Indian Participation at 'Sigiriya Rally Cross 2009'
6:36pm on Wednesday 23rd September 2009
The Sri Lanka Air Force (SLAF) and Sri Lanka Association of Racing Drivers and Riders (SLARDAR) together held a press conference today (23 September 2009) at the Government Information Department Auditorium. Addressing the media about the upcoming "Sigiriya Rally Cross, " Wg Cdr Janaka Nanayakkara (SLAF) and Mr.Mahesh Gammanpila (SLARDAR) mentioned that this event will be a first of its kind in Sri Lanka. A combination of tarmac and gravel tracks would contribute towards the uniqueness.
The event which is envisaged to be flagged off on the 27th of September in Sigiriya is expected to field over 150 riders and drivers, including two Indian riders present during the press briefing.
The main sponsors of the event are Mobitel-Telecom, Singer Sri Lanka, Bank of Ceylon and Browns Group, while the exclusive Print media partner is ANCL. The Co-Electronic Media Sponsors are SLRC, ITN, TV Derana, ART TV, ETV, TNL, TNL Rocks, Rithem FM, Lite FM, Vettri FM, Radio One, Radio 2, Siyatha FM, Real Radio, E for 80's FM, Neth FM, Ran FM, SLBC, Shri FM and FM Derana.