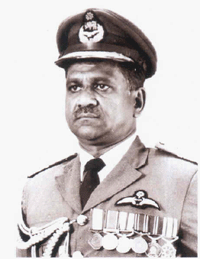 On the 01st of May 1985 Andibuduge Walter Fernando rose to the highest echelon of the Sri Lanka Air Force, having being promoted to the rank of Air Marshal – the first Air Force commander to be promoted to this rank on appointment.
On completion of his education at Maristella College, Negombo he joined the Air Force in January 1953, Walter Fernando was a cadet in the second batch of pilots to be locally trained. He followed his ground and flying training. Upon his commissioning he then proceeded to UK to follow training on navigation and a course on ground instruction. Here in Ceylon, he was one of the first local pilots to fly helicopters. In 1958, he was appointed Station Navigation Officer Katunayake, and the following year he was appointed Chief Ground Instructor, Flying Wing Katunayake.
He held the appointment of CO No 4 Flight and he oversaw its evolution to No 4 Squadron. He then served as Commandant Air Force Academy, Base Commander at SLAF Bases China Bay and Katunayake, and Director Flying Operations. Walter Fernando was appointed Chief of Staff in 1981 from where he stepped up as Commander.
Following the footsteps of his predecessors ACM Fernando also followed staff training graduating from the RAF Staff College at Bracknell, UK and National Defence College India.
Air Chief Marshal Walter Fernando was awarded the Vishista Seva Vibushanaya in 1983, in recognition of a long and distinguished career with the Air Force. He relinquished command on 31st July 1990. He was promoted to the rank of Air Chief Marshal upon retirement and was appointed as the Secretary to the Ministry of Defence – the first ever Air Force officer to rise to this appointment.