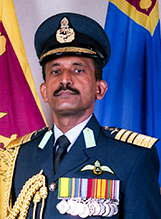 Air Chief Marshal G D Perera joined the Sri Lanka Air Force as an Officer Cadet in the General Duties Pilot Branch on 12th January 1972 with the first intake of Cadets. On successful completion of flying training he was commissioned as a Pilot Officer on 19th October 1973.
During his illustrious career he has held the appointments of Commandant Flying Training Wing Air Force Academy China Bay , Commanding Officer No.2 Transport Wing Ratmalana, Base Commander SLAF Base Katunayake and Zonal Commander - Western Zone, Base Commander SLAF Base China Bay and Zonal Commander Eastern Zone and Acting Director Operations, Air Force Headquarters.
Prior to being appointed as the Commander of the Air Force on 16th July 2002, he held the office of the Chief of Staff from December 1998. Air Chief Marshal Perera graduated from the Air Command and Staff College, Air University, Maxwell Air Force Base, Alabama, USA in 1990 and had also attended the prestigious National Defence College in India in 1998.
Having over 7,500 flying hours, Air Chief Marshal Perera has flown almost all the transport aircraft in the SLAF inventory. The main types of aircraft flown and commanded by him include De Havilland 104 Dove, Riley Heron, Douglas DC 3 Dakota, Cessna 421C, HS 748 Avro, Beech Super King Air B200T, Yunshuji 12 and Yunshuji 8. Since 1983, he actively participated in Air Operations in the North and East.
In recognition of his distinguished service he has been awarded with the Vishista Seva Vibhushanaya, Utthama Seva Padakkama, Republic of Sri Lanka Armed Services Medal, Sri Lanka Air Force 50th Anniversary Medal, Sri Lanka Armed Services Long Service Medal, Presidential Inauguration Medal, 50th Independence Anniversary Commemoration Medal, North and East Operations Medal, Purna Bhumi Padakkama, Vadamarachchi Operations Medal, Riviresa Campaign Service Medal.
Air Chief Marshal G D Perera, the 11th commander of the SLAF, relinquished Command on 11th June 2006.