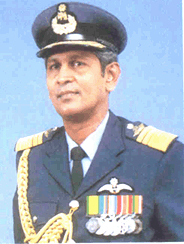 Oliver Matthew Ranasinghe, a proud product of Dharmapala College, Pannipitiya joined the Air Force on 7th February 1968 as a Sergeant Pilot, little knowing that he would rise to become the ninth Commander of the Sri Lanka Air Force.
After training at Diyatalawa in Basic Ground Combat, where he won the trophy for the best marksman, he went for flying training to the Air Force Academy, China Bay. Upon completion on flying training where he flew Chipmunk, Dove and Jet Provost aircraft he was awarded his wings in 1969.
His career as a pilot was quite diversified as he flew operationally, both fixed wing and rotary wing aircraft. He went on to command No 4 Squadron and was also at its helm when it was elevated to 'Wing' status in 1987. He also served as Base Commander SLAF Base Anuradhapura before moving up as Director Operations and later as Chief of Staff. He took over Command of the Air Force on 17th February 1994, concurrently being promoted to the rank of Air Marshal.
The training that he received from the Air Staff College, Maxwell Air Force Base USA and the National Defence College, New Delhi, India proved to be invaluable in his journey to reach the pinnacle. He has also successfully completed a Senior Management Course at Monterey, California, USA.
Air Chief Marshal Oliver Ranasinghe's period saw a significant boom in technological advancement within the Air Force. The acquisition of the legendary Kfir fighter, devastating Mi 24 attack helicopter, and the logistical workhorse AN 32B aircraft took place under his purview. The SLAF also took a giant step forward when it acquired the Unmanned Aerial Vehicle which provided invaluable intelligence and reconnaissance services in the war against terrorism.
Furthermore, during his time, the SLAF re-emerged in the local sports arena with many national championships being won by the men and women in blue. The Air Force also won the National Quality Award in 1995 – another first for an Armed Service in Sri Lanka.
Air Chief Marshal Ranasinghe was awarded the Rana Wickrama Padakkama for gallantry, the Vishista Seva Vibushanaya and the Uththama Seva Padakkama for long and distinguished service to the Air Force. He handed over command on 05th March 1998. In recognition of his services he was promoted to the rank of Air Chief Marshal on 01st October 2007.