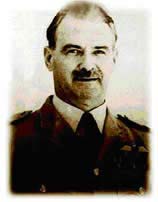 Graham Clerke Bladon etched his name in golden letters on the walls of history when he took over as the first commander of the Ceylon Air Force on 02 March 1951. It is with his appointment that the birth of the Ceylon Air Force takes place.
He initially joined the Royal Naval Air Service in 1917 and with the creation of the Royal Air Force shifted to this new service, receiving a short commission in the rank of Flying Officer. He rose through the ranks and went on to hold the appointments such as Commander of the RAF base in Singapore in 1946 and later, Staff Officer (Admin) at Air Headquarters Malaya. He was also Senior Air Staff Officer of the Royal Air Force's 62nd group, the reserve command covering the whole of the South West of England. He had also been in charge of training auxiliary squadrons, volunteer reserves and the RAF cadets. He was appointed as Air Advisor to the Government of Ceylon on 16 May 1950 prior to his appointment as the first Commander of the Ceylon Air Force.
He was honoured with the Order of the British Empire in 1951, whilst serving in Ceylon.
Bladon initially established headquarters in two rooms at the Galle Face hotel. He subsequently acquired the land at Parson's road and shifted the AFHQ there. Bladon's time was a true test of determination and will to succeed. He relinquished command on 8 October 1958. Air Cdre GC Bladon passed away on 11 October 1967 in the United Kingdom.