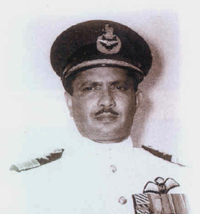 Ekanayake Rohan Amarasekara became the first Ceylonese to take over control of the Royal Ceylon Air Force. He was appointed to office on 01 November 1962 holding the rank of Air Commodore.
Rohan Amarasekara was RCyAF's very own World War II hero, having served with distinction as a navigator in the RAF Bomber Command. He had flown on as many as 52 raids, mostly over Nazi Germany. His gallant and selfless contribution during World War II earned him the prestigious Distinguished Flying Cross twice.
He returned to Ceylon in 1951 as one of the RCyAF's first officers, holding the rank of Squadron Leader. He then converted to the General Duties (Pilot) branch when he underwent flying training at No 1 Squadron. He was then appointed as the Senior Air Staff Officer at Air Force Headquarters, and subsequently as the Chief of Staff prior being appointed as the Commander.
He was appointed to the helm of the organization on 01 November 1962. AVM Amarasekara pursued the Ceylonisation of the Air Force. He was instrumental in drafting the Queen's Regulations to suit local conditions. The official language was introduced into day to day administration of the Air Force. He also played a key role in quelling the coup-d'ètat that threatened to overthrow the government. Amarasekara relinquished command on 01 January 1971. He passed away on 20 March 1974.