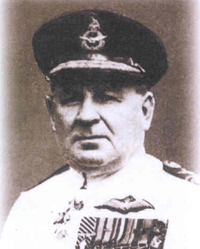 John Lindsay Barker, a RAF hero from the famous North African campaign, took over command of the Royal Ceylon Air Force(RCyAF) on 8 October 1958.
Barker joined the RAF in 1931 and received his commission in 1934. A graduate of Oxford University, and thereafter a Barrister-at-Law, Air Vice Marshal Barker went on to forge a relationship with the RAF spanning 26 years. He held distinguished appointments such as Officer Commanding RAF Ismailia in Egypt, Senior Air Staff Officer, No 64 (Northern) Group, and Air attaché, at the British Embassy in Rome. He took over command of the RCyAF from Air Cdre GC Bladon.
AVM Barker ensured the rapid expansion of the RCyAF, a necessity to ensure that the Force became established quickly and was placed on a firm foundation. During his tenure of command the RCyAF acquired its first jet aircraft – the Hunting Percival Jet Provost. His Command period would also reflect the "Ceylonisation" process of the Force, a job he strived to complete before he left Ceylon.
AVM Barker relinquished command on 01 November 1962 and returned back to England. He retired from the RAF on 26 Feb 1963. AVM James Lindsay Barker passed away on 07 May 2004 at the age of 93.