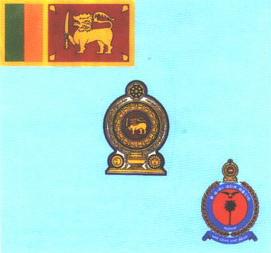 SLAF Base Katunayake was established on 1st September 1951 and is the oldest and Main Base in the SLAF. The Base provides Administrative, Logistics, General and and Civil Engineering Services to 14 lodger formations located in the base and caters for a strength of 200 Officers and 3500 men.
This Base has been the hub of providing Administrative, logistics and Engineering services to all other formations in the north and east in their formative stage and continue to provide the bulk of operational requirements and engineering support even today. The commitment and devotion to duty of personnel is so exemplary that operational and administrative commitment of all formations were successfully met amidst all constrains.
The SLAF Base Katunayake President's Colour will be of Silk, the dimensions are 3 feet 9 inches in length and breadth, exclusive of the pocket of the pike and the fringe to be of 02 inches. Colour will be of ice blue background with Lion flag at top left corner, the approved emblem of the Sri Lanka in the centre and the Emblem of SLAF Base Katunayake at the bottem right corner of the flag. The border is decorated with blue and gold tassels of one-inch length.
The colour pike to be of light wooden material black coated. Length of the pike is 7 feet and 11 inches. The cord and tassels are in gold and blue.