The Sri Lanka Air Force Base Katunayake, the largest Air Force Base in Sri Lanka , is situated in close proximity to the Bandaranayake International Airport. The Base provides administrative, logistical, general and civil engineering services to all lodger formations located within the Base.
The following flying Squadrons are based at Sri Lanka Air Force Base Katunayake.
No. 02 Squadron

No. 05 Jet Squadron

No. 10 Fighter Ground Attack Squadron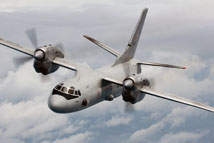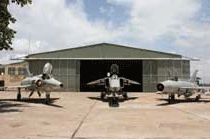 In addition to the above flying formations the following formations are also located within the Base.
Supply & Maintenance Depot

Electronic & Communication
Command Argo Unit
Aeronautical Engineering Wing

General Engineering Wing
Aircraft Spares Depot
Hospital

Radar Maintenance Wing
Motor Transport Repair Operating Wing
No 26 Regiment Wing
No 43 Colour Wing
No 62 Intelligence Wing
Mechanical & Electrical Wing
Dental Unit
Directorate of Performing Arts
Construction Machinery Wing

No 01 Air Defence Radar Squadron
Equipment Provisioning and Accounting Unit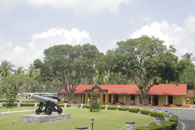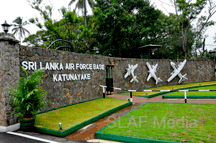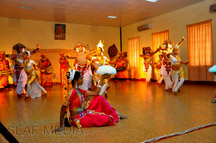 A fully equipped gymnasium, a swimming pool, a cinema, a paddle boat service and newly constructed huts for arrange functions of SLAF personnel in this Base are among the many recreational and sports facilities offered by the Base for its personnel. The housing complex located within the Base provides accommodation to several hundred families of the Air Force personnel serving at the SLAF Base Katunayake.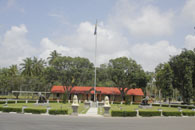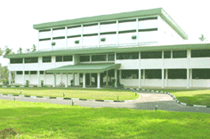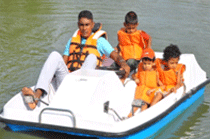 Air Commodore HSS Thuiyacontha functions as the Base Commander of this Base.
Contact
Air Commodore HSS Thuiyacontha WWV, RWP and two Bars, RSP and Bar, USP, MMSc (Strat Stu - China), MSc (Def Stu) in Mgt, MSc (Def & Strat Stu), fndu (China), psc
Base Commander,
Sri Lanka Air Force,
Katunayake, Sri Lanka.
Telephone:
+94 11 2441044, 2495495