Commanding Officer
Commanding Officer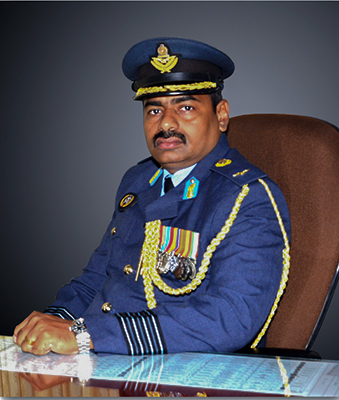 Gp Capt AJ Amerasinghe
RSP USP MDS BSc (Def Strat) in Mgt psc
Group Captain Aloyius Janaka Amerasinghe joined the Sri Lanka Air Force in 1986 on completion of his primary and secondary education at St Anthony's College Kandy Sri Lanka and was commissioned as a Pilot Officer in the Administrative Regiment Branch on 09 September 1988.

Group Captain Amerasinghe is a graduate of the prestigious General Sir John Kotalawala Defence University, Sri Lanka and holds the Post graduate degree of Masters in Defence Studies from University of Kalaniya, Sri Lanka.

He has held various command appointments that includes Officer Commanding of 'A' Wing SLAF Special Operations Group in Mankulam, Officer Commanding Defence at Regiment Wing SLAF Ratmalana and thereafter as Commanding Officer of 22 Regiment Wing SLAF Palaly, Commanding Officer of SLAF Sigiriya, Commanding Officer of SLAF Ekala, Commanding Officer of SLAF Station Diyatalawa and at two occasions as the Commanding Officer of SLAF Station Palaly.

Group Captain Amerasinghe has served in various staff appointments at Sri Lanka Air Force Headquarters during his career; which includes Principal Staff Officer to the Chief of Staff and Staff Officer Ground Operations I.

He has held many training appointments such as the Chief Instructor Cadet Training and Chief Instructor Recruit Training at Sri Lanka Air Force Recruit Training Station at Diyatalawa and as the Commanding Officer of Advanced Trade Training School of SLAF Ekala and Commanding Officer of Combat Training School Diyathalawa and as Head of Training Team of Air Wing Defence Services Command and Staff College Sapugaskanda. At present, he is serving as the Commanding officer of Junior Command and Staff College at Sri Lanka air Force Academy China Bay.

His distinguished conduct in the face of the enemy during the separatist conflict has earned him the prestigious Presidential award of 'Rana Sura Padakkama (RSP)'. In recognition of his valuable service and devotion to duty in exceptional ability, merit and exemplary conduct he has been awarded with the 'Utthama Sewa Paddakkama (USP)'.

For sports he has played Rugby Football at college level and for clubs such as Kandy Sports Club and Sri Lanka Air Force Sports Club.