The Past
The importance of training in Defence Forces cannot be over emphasised. In this context, Sri Lanka Air Force felt this necessity of conducting training at all levels most importantly for its middle level Officers right from their formative stage. As there was no proper training establishment geared to take up this challenge, the organization sent only few officers periodically to follow Junior Command and Staff training in foreign countries depending on the availability of placements. However, it was found that most o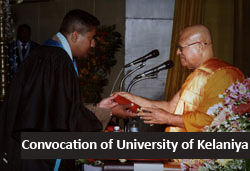 f their training modules are not as relevant in our context as the training needs are focused to their national security demands. This highlighted the importance of having our own staff training institution within the Air Force. Subsequent to a feasibility study by the Air Force Board of Management, the Junior Command and Staff College was established in March 1999 at China bay, with a view to impart command, staff, leadership and management training to mid level Officers of Sri Lanka Air Force. These disciplines need to be developed among the junior officers to keep abreast of the rapid expansion of the service and to maintain its operational efficiency and readiness. The fact that this college caters to other services namely Sri Lanka Army and Sri Lanka Navy explicitly shows the importance of this college and the esteemed position it occupies in military education arena of our country. Therefore, it is essential that the in-house service training offered at this college for military officers at mid level deserves a recognition commensurate with their rank and service.
The Junior Command and Staff College recognises the need for close collabora
tion with the civil and service intellectuals/resourced personnel both in teaching and research work. This college has already developed links with a number of state and private organization partners who have provided both students and directing staff with a window to the developing trends and techniques in the field of management. In this regard the students will be exposed to the current management practices of leading public and private sector establishments during their organized course visit.
Taking all the aforementioned aspects into consideration, the Junior Command and Staff College of Sri Lanka Air Force is affiliated to the University of Kelaniya in year 2006 to award a Post Graduate Diploma for this course in keeping with the University evaluation criteria.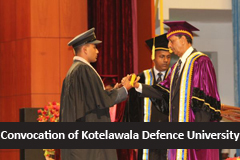 With effect from 2012 our affiliation shifted to General Sir John Kotelawala Defence University for Post Graduate Diploma in Defence Management.